Arthur Ransome – English author, 1884-1967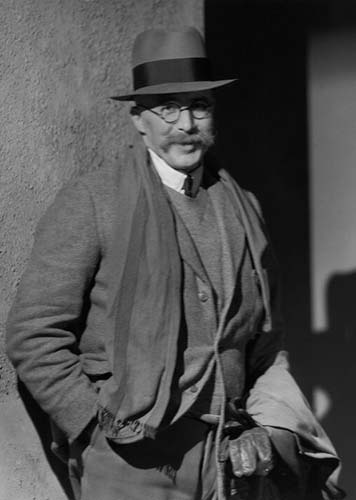 Arthur Ransome's childhood summer holidays in northern England's Lake District led him, much later in his life, to write Swallows and Amazons (1930), the first of his popular series, "Swallows and Amazons," of twelve books for children. His success was due at least in part to his vivid recollec­tion of the ingredients of childhood happiness, but his own childhood was not all joyful.
In school, he recalls, he was "extremely miserable." When he was thirteen, his father died and the family no longer vacationed at the lake, although in his twenties he spent some time there with a family who provided models for some of his fic­tional characters. Arthur Ransome's career as a journalist took him, among other places, to revolutionary Russia. There he met Trotsky's secretary, who later became his wife. The success of his first books enabled him to spend the rest of his life in the Lake District, where he continued the series, fulfilled at last.
"It seems to me," he wrote, "that in writing children's hooks I have the best of childhood over again and the best of being old as well." The best of childhood, he per­ceived, was the holidays, and in his books the characters are left alone to enjoy their holidays as they choose. Together they create their own adventures, on small sailboats, exploring an island, camping, seeking trea­sure, solving small mysteries. Group play is an impor­tant aspect of their adventures.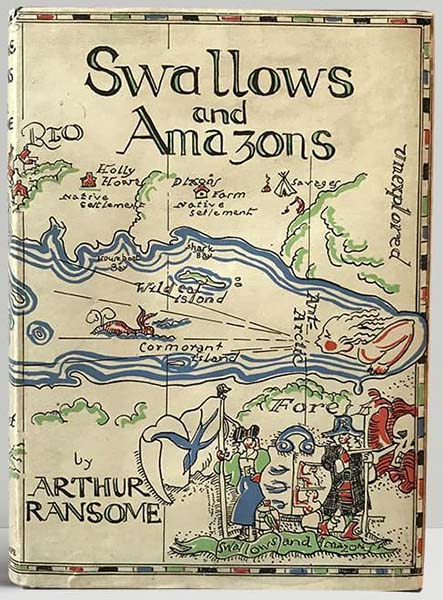 The four older Walker children act out the roles of a traditional nuclear fam­ily, with patriarchal Captain John (ship's master) and maternal Susan (first mate) providing a secure environ­ment in which their younger siblings, Able Seaman Titty and Ship's Boy Roger, can develop their own compe­tence. Other children (and adults), such as the Blackett sisters, who are the Amazon pirates of the lake, and their fearsome/fun uncle, Captain Flint, sometimes take part in the group play, helping to shape the adventures.
Like a father, Arthur Ransome is fond of all his characters. All have well-developed, individual personalities, and episodes are presented from their respective points of view. But he seems to have an especially strong attachment to dreamy, emotional Titty, who is not always able to dis­tinguish between the real and the imagined and who draws the others into her fantasy world. Plausible expe­riences are amplified by the group imagination; once a fantasy has been developed (the little sailboat Swallow is a large sailing vessel, the Amazon is a pirate ship; there is a lost gold mine in the nearby hills, they are on an expe­dition to the North Pole), they all become serious about believing it.
Occasionally, the children's adventures are exciting and even dangerous enough without the need for imaginative enhancement. For example, they are caught in a forest fire in Pigeon Post (1936), and they accidentally cross the English Channel in a fog while spending the night on an anchored sailboat in We Didn't Mean to Go to Sea (1937). Distinctive in Ransome's fic­tion is his attention to detail. He unobtrusively provides I wealth of practical information about activities such as sailing, camping, prospecting, and signaling.
At the time of their publication in the 1930s and '40s the books were immensely popular. Today they are as well loved by a fewer number of readers who are still inspired by Arthur Ransome's warm, resourceful, energetic characters.
§ D.C.
Source: Children's Books and their Creators, Anita Silvey.
---
Arthur Ransome Works
The Souls of the Streets and other Little Papers (1904)
The Child's Book of the Seasons (1906)
Pond and Stream (1906)
The Things in our Garden (1906)
Bohemia in London (1907)
The Book of Friendship (1909)
A History of Story-telling (1909)
Edgar Allan Poe (1910)
The Book of Love (1911)
The Hoofmarks of the Faun (1911)
Oscar Wilde, a Critical Study (1912)
Portraits and Speculations (1913)
The Elixir of Life (1915)
Old Peter's Russian Tales (1916)
A Letter to America (1918)
Six Weeks in Russia (1919)
Aladdin and his Wonderful Lamp in rhyme (1920)
The Crisis in Russia (1921)
The Soldier and Death (1922)
Racundra's First Cruise (1923)
Rod and Line (1929)
Mainly about Fishing (1959)
"Swallows and Amazons series"
Swallows and Amazons (published 1930)
Swallowdale (1931)
Peter Duck (1932)
Winter Holiday (1933)
Coot Club (1934)
Pigeon Post (1936)
We Didn't Mean To Go To Sea (1937)
Secret Water (1939)
The Big Six (1940)
Missee Lee (1941)
The Picts and the Martyrs: Or Not Welcome At All (1943)
Great Northern? (1947)
Coots in the North (unfinished) —Ransome died in 1967 and the work was edited by Hugh Brogan and sections published as unfinished in 1988, with some other short works.