Florence Kate Upton – English Illustrator and Author (1873-1922)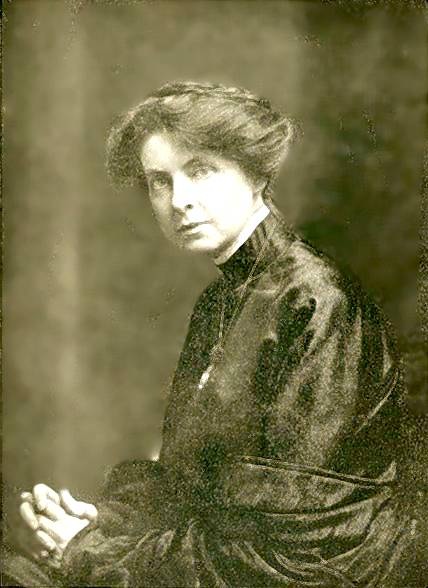 Although Florence Kate Upton (1873-1922) was born in New York, her parents always considered England their home. Her father, Thomas Harborough Upton, was an artist who emi­grated to the United States where he married Bertha Hudson (1849-1912), the daughter of an English architect. In 1889 when Florence was sixteen, her mother was widowed and in order to support the family she taught singing while Florence found work as an illustrator.
In 1893 Florence Kate Upton went with her mother to England where she pursued her ambition to create children's books. As an illus­trator she worked from models. She found some wooden Dutch dolls to serve as characters but lamented that she had no hero. To her surprise her aunt produced an old black doll that she had left behind after a childhood visit. Florence was delighted and promptly named him Golliwogg. To accompany her illustrations for The Adventures of Two Dutch Dolls, a Christ­mas Eve toy-shop revel, her mother Bertha composed spirited but indifferent verses. The manuscript was rejected by pub­lishers until a Mr. Allen of Longmans, Green & Co. showed it to his children whose spontaneous enthusiasm encouraged the firm's acceptance.
Although Mrs. Upton had returned to New York before the book's publication in 1895, its warm reception prompted continued collaboration with her daughter in Gol­liwogg sequels, issued annually until 1909. In The Golliwogg's Bicycle Club (1896) the dolls visited Japan. After studying in Holland in 1901, Florence depicted The Golliwogg in Holland (1902). Adventures in later books took place in the Arctic, on a desert island, in the African jungle, etc., all of them illustrated with colourful lithographs, innovative in that they discarded the confining borders characteristic of the nineteenth century.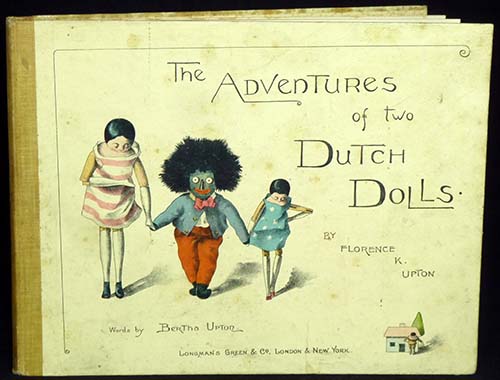 Critics were mixed in their reception. One wrote: 'Golliwogg is ugly but he has a good heart and is a dear fellow and are not children way ahead of adults in reading characters?' As the Golliwogg stories became beloved in the nurseries of Eng­land, Golliwogg dolls were produced for sale. These were fol­lowed by Golliwogg ink pots, paperweights, paper-knives, games, greeting cards and wall-paper. Golliwogg was dramatized at London's Garrick Theatre and Claude Debussy composed the 'Golliwogg Cake-Walk'. Unfortunately Florence Upton did not patent the Golliwogg name and thereby lost a considerable fortune. The books, however, provided both mother and daughter with a substantial income.
When World War I broke out in 1914, Florence engaged in war work, using her talent in portraiture to create mementoes of soldiers about to leave for active duty on the Continent. In 1917, as a patriotic gesture, she submitted for auction some three hundred and fifty drawings, books, and the original doll models and gave the proceeds to the Red Cross to buy an ambu­lance, named the 'Golliwogg'. Later she was gratified to learn that a selection of her books and art were presented to the nation. The dolls were housed in Chequers, the Tudor mansion, given in 1921 as a home of the Prime Ministers of Great Britain.
A lonely and unhappy woman, Florence Kate Upton became in later years increasingly interested in spiritualism and believed she was in communication with her deceased mother. From 1918 passages in her automatic writing frequently refer to her own death in 1922. She was buried in Hampstead cemetery and on her tombstone there, 'peeping out of the carved foliage … are one or two little Golliwogg heads'.
Source: English Illustrated Books for Children, edited by Margaret Crawford Maloney.
Florence Kate Upton – Illustrated Books
The Adventures of Two Dutch Dolls and a Golliwogg, 1895
The Golliwogg's Bicycle Club, 1896
The Golliwogg at the Sea-Side, 1898
The Golliwogg in War, 1899
The Golliwogg's Polar Adventure, 1900
The Golliwogg's Auto-Go-Cart, 1901
The Golliwogg's Air-Ship, 1902
The Golliwogg's Circus, 1903
The Golliwogg in Holland, 1904
The Golliwogg's Fox Hunt, 1905
The Golliwogg's Desert Island, 1906
The Golliwogg's Christmas, 1907
Golliwogg in the African Jungle, 1909