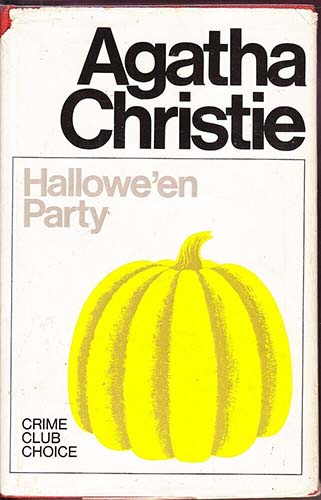 Hallowe'en Party is a work of detective fiction by British writer Agatha Christie, first published in the UK by the Collins Crime Club in November 1969 and in the US by Dodd, Mead and Company later in the same year. The UK edition retailed for twenty-five shillings. In preparation for decimalisation on 15 February 1971, it was also priced on the dustjacket at £1.25. The US edition retailed at $5.95.
The novel features Belgian detective Hercule Poirot and the mystery novelist Ariadne Oliver, who begins the novel in attendance at a Hallowe'en party. A girl at the party claims she witnessed a murder, which, at the time, she was too young to realize was a murder. Soon, the girl herself is found murdered, and Oliver calls in Poirot. This book was dedicated to P. G. Wodehouse.
Plot Summary
[SPOILER ALERT]
At a Hallowe'en party held at Rowena Drake's home in Woodleigh Common, thirteen-year-old Joyce Reynolds tells everyone attending she had once seen a murder, but had not realised it was one until later. When the party ends, Joyce is found dead, having been drowned in an apple-bobbing tub. Ariadne Oliver, attending the party while visiting her friend Judith Butler, calls on Hercule Poirot to investigate the murder and Joyce's claim. With help from retired Superintendent Spence, Poirot makes a list of deaths and disappearances for the last few years in Woodleigh Common: Rowena's aunt, Mrs Llewellyn-Smythe, died suddenly; her au pair Olga Seminoff disappeared, when a codicil that favoured her in her employer's will was found to be a forgery; Leslie Ferrier, a lawyer's clerk, was stabbed in the back by an unknown assailant; Charlotte Benfield, a sixteen-year-old shop assistant, was found dead with multiple head injuries; and Janet White, a teacher at Elms School, was strangled to death.
Poirot learns a few interesting facts: Judith's daughter Miranda was Joyce's closest friend, and the pair shared secrets between them; Joyce was known to be a teller of tales to gain attention; Elizabeth Whittaker, a mathematics teacher attending the party, witnessed Rowena become startled and drop a glass vase of water outside the door of the library, while the party-goers were playing snapdragon; Ferrier had previous convictions for forgery, and many suspected that he and Olga were working together to steal Mrs Llewellyn-Smythe's fortune; a one-time cleaner of Mrs Llewellyn-Smythe had been witness to her employer making the codicil; a beautiful garden built within an abandoned quarry for Mrs Llewellyn-Smythe, was designed by Michael Garfield, a man with narcissistic behaviour; the victim's brother, Leopold Reynolds, has become flush with money of late.
Leopold is later found dead, having been drowned in a small brook. Rowena, unusually upset about the death, informs Poirot she had seen him in the library the night of the party, and believes he witnessed his sister's killer. Poirot soon has a theory, and advises the police to search the woods near the quarry. The search turns up Olga's body in an abandoned well, having been stabbed in the same manner as Ferrier. Fearing another murder, Poirot sends a telegram to Mrs Oliver, instructing her to take Judith and her daughter to London as quickly as possible. However, Miranda disappears when the group stops for lunch, and meets up with Garfield, who takes her to a pagan sacrificial altar with the intention of poisoning her. However, he commits suicide when two men, recruited by Poirot to trail Miranda, thwart him and save her life. Once in safety, Miranda reveals that she had witnessed the murder Joyce claimed she had seen; more precisely, she saw Garfield and Rowena drag Olga's body through the quarry garden and only later realized she had witnessed a murder.
Poirot tells Mrs Oliver what he has learned. While her husband was alive, Rowena began an affair with Garfield. Her aunt discovered this, and as a punishment, she wrote a codicil that left her fortune to Olga. When the pair learnt of this, they plotted to discredit Olga's claim, hiring Ferrier to replace the real codicil with a clumsy forgery that could be easily spotted, ensuring Rowena inherited everything as stipulated in earlier wills; the real codicil was not destroyed and later found. Both Olga and Ferrier were murdered to conceal the deceit, though Rowena suspected someone had witnessed the disposal of Olga's body. She killed Joyce when she claimed she had witnessed a murder, unaware that she had appropriated Miranda's story as her own. The dropping of the vase of water, which Mrs Whittaker witnessed, was to disguise the fact Rowena was already wet from drowning Joyce. Leopold was murdered because he had witnessed Rowena murdering his sister and subsequently blackmailed her.
With his theory, Poirot muses that Rowena would likely have shared a similar fate to Olga, as Garfield's motivation for the murder was his narcissistic desire to construct another perfect garden with Rowena's money; he would have had no further need of her, as she had already provided him with a Greek island she had secretly purchased. Poirot reveals further that Garfield was Miranda's father; Judith is not a widow, but a single mother. She had met Garfield years before, and encountered him by accident when settling in the area with Miranda. While Garfield knew Miranda was his daughter, he was willing to kill his own child to ensure he could create another garden. Satisfied with his help, Judith thanks Poirot and leaves, though the story ends with a few questions unanswered, including whether Mr Drake's death was an accident, and if the police took Mrs Drake to trial.
Publication history
1969, Collins Crime Club (London), November 1969, Hardback, 256 pp
1970, Pocket Books (New York), Paperback, 185 pp
1972, Fontana Books (Imprint of HarperCollins), Paperback, 189 pp
The novel was first serialised in the weekly magazine Woman's Own in seven abridged instalments from 15 November to 27 December 1969, illustrated with uncredited photographic montages.
In the US, the novel appeared in the December 1969 issue of Cosmopolitan magazine.
Hallowe'en Party – First Edition Book Identification Guide
The books are listed in the order of publication. While the majority of Agatha Christie's books were first published in the UK. There are many titles that were first published in the US. The title of the book may differs from the UK edition in some cases.
| Year | Title | Publisher | First edition/printing identification points |
| --- | --- | --- | --- |
| 1969 | Hallowe'en Party | William Collins & Sons, London, [1969] | First edition. "© Agatha Christie, Ltd., 1969" stated on the copyright page. No statement of later printings. Red cloth lettered in gold. Price £1.25/25s. |
| 1969 | Hallowe'en Party | Dodd, Mead & Co, NY, [1969] | First American edition. "First published … 1969" stated on the copyright page. Black boards, white and orange titles to spine. Price $ 5.95. |
Note about Book Club Editions (BCE) and reprints:
UK: You can see statements of later reprint dates or of book club on the copyright page.
US: The US reprint publishers usually use the same sheets as the first edition and are harder to identify by looking at the title page or the copyright page. One may identify a BCE by looking at the DJ, which doesn't have a price on top of the front flap and a "Book Club Edition" imprint at the bottom. If the dust jacked is clipped at both the top/bottom of the front flap. You can safely assume it's a BCE . If the book is missing the dust jacket. Later BCE editions can be identified by its plain boards, while first printings are issued in quarter cloth.
Please refer to the gallery for detailed images of true first edition bindings and dust jackets.
Hallowe'en Party – First Edition Dust Jacket Identification Guide
First edition bindings and various dust jacket printings identification.
Reference: