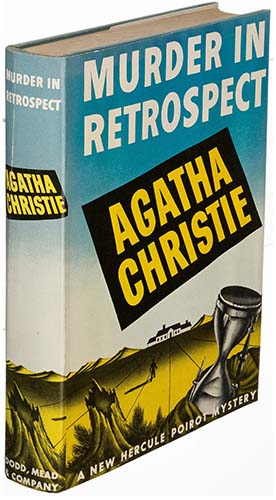 Five Little Pigs is a work of detective fiction by British writer Agatha Christie, first published in the US by Dodd, Mead and Company in May 1942 under the title of Murder in Retrospect and in the UK by the Collins Crime Club in January 1943 although some sources state that publication occurred in November 1942. The UK first edition carries a copyright date of 1942 and retailed at eight shillings while the US edition was priced at $2.00.
The book features detective Hercule Poirot investigating five people about a murder committed sixteen years earlier. Caroline Crale died in prison after being wrongfully convicted of murdering her husband, Amyas Crale, by poisoning him. In her final letter from prison, she claims to be innocent of the murder. Her daughter Carla Lemarchant asks Poirot to investigate this cold case, based on the memories of the people closest to the couple.
The novel's title is from a nursery rhyme, usually referred to as This Little Piggy, which is used by Poirot to organise his thoughts regarding the investigation. Each of the five little pigs mentioned in the nursery rhyme is used as a title for a chapter in the book, corresponding to the five suspects. Agatha Christie used this style of title in other novels, including One, Two, Buckle My Shoe, Hickory Dickory Dock, A Pocket Full of Rye, and Crooked House.
In the UK version of the story Five Little Pigs, Poirot refers to the novel The Moon and Sixpence, by W. Somerset Maugham, when he asks Angela Warren if she had recently read it at the time of the murder. Poirot deduces that Angela must have read The Moon and Sixpence from a detail given in Philip Blake's account of the murder, in which he describes an enraged Angela quarrelling with Amyas and expressing the hope that Amyas would die of leprosy. The central character of The Moon and Sixpence, Charles Strickland, is a stockbroker who deserts his wife and children to become an artist and eventually dies of leprosy.
Plot Summary
[SPOILER ALERT]
Sixteen years after Caroline Crale was convicted for the murder of her husband Amyas, her daughter Carla Lemarchant approaches Hercule Poirot, asking him to investigate the case. When Carla was 21 she was given a letter from her late mother claiming she was innocent, and Carla believes this to be true. She fears that her fiancé will leave her if the truth behind the murder is not uncovered. Poirot agrees to her request. On the day of the murder at the Crales' home there were five other people present, whom Poirot dubs "the five little pigs" – stockbroker Philip Blake, amateur chemist Meredith Blake (Philip's brother), Caroline's young half-sister Angela Warren, Angela's governess Cecilia Williams, and Amyas's painting model Elsa Greer. The police found that Amyas was poisoned by coniine, found in a glass from which he had drunk. Caroline confessed to stealing the poison from Meredith's lab, intending to use it to commit suicide. She had brought a cold bottle of beer to Amyas and the police believed she had poisoned it. Amyas was having an affair with his model Elsa, which was believed to be Caroline's motive.
Poirot interviews the five other suspects and notes that none has an obvious motive. Caroline's half-sister Angela is the only one who believes Caroline was innocent. He assembles them, along with Carla and her fiancé, and reveals that Caroline was innocent but chose not to defend herself because she believed Angela had committed the murder. Although Angela had handled the beer bottle she had added nothing to it before her sister took it to Amyas. Caroline later assumed that her sister had added something to the beer as a prank, causing Amyas's death. When the police charged Caroline with the murder she did not defend herself, believing that she was protecting Angela. When they were much younger, Caroline had thrown a paperweight at Angela, disfiguring her face, and saw this as a way to atone for that incident.
Poirot states that the murderer was Elsa Greer. She had taken Amyas' promise to marry her seriously, unaware that he only wanted her to continue as his model until the painting was done. She overheard Amyas reassure his wife that he was not leaving her, felt betrayed and wanted revenge. She had seen Caroline take the poison from Meredith's lab, so she took it from Caroline's room and put it in a glass of warm beer that she gave Amyas. When Caroline later brought him a cold bottle of beer, he commented that "everything tastes foul today", and drank the cold beer from the bottle. This indicated to Poirot that the poison had been in the glass Elsa had given him. Poirot's explanation solves the case to the satisfaction of Carla and her fiancé. Although the chances of getting a pardon for Caroline or a conviction of Elsa are slim with circumstantial evidence, Poirot plans to present his findings to the police.
Publication history
1942, Dodd Mead and Company (New York), May 1942, Hardback, 234 pp
1943, Collins Crime Club (London), January 1943, Hardback, 192 pp
1944, Alfred Scherz Publishers (Berne), Paperback, 239 pp
1948, Dell Books, Paperback, 192 pp (Dell number 257 [mapback])
1953, Pan Books, Paperback, 189 pp (Pan number 264)
1959, Fontana Books (Imprint of HarperCollins), Paperback, 192 pp
The novel was first serialized in the US in Collier's Weekly in ten installments from 20 September (Volume 108, Number 12) to 22 November 1941 (Volume 108, Number 21) as Murder in Retrospect with illustrations by Mario Cooper.
Murder in Retrospect – First Edition Book Identification Guide
The books are listed in the order of publication. While the majority of Agatha Christie's books were first published in the UK. There are many titles that were first published in the US. The title of the book may differs from the UK edition in some cases.
| Year | Title | Publisher | First edition/printing identification points |
| --- | --- | --- | --- |
| 1942 | Murder in Retrospect | Dodd, Mead & Co, NY, 1942 | First edition. Date on the title & copyright page matches. No statement of later printings. Blue cloth lettered in black. Price $2.00. |
| 1942 | Five Little Pigs | William Collins & Sons, London, [1942] | First English edition. "1942" on single line stated on the copyright page. No statement of later printings. Red cloth lettered in black. Price 8s. |
Note about Book Club Editions (BCE) and reprints:
UK: You can see statements of later reprint dates or of book club on the copyright page.
US: The US reprint publishers usually use the same sheets as the first edition and are harder to identify by looking at the title page or the copyright page. One may identify a BCE by looking at the DJ, which doesn't have a price on top of the front flap and a "Book Club Edition" imprint at the bottom. If the dust jacked is clipped at both the top/bottom of the front flap. You can safely assume it's a BCE . If the book is missing the dust jacket. Later BCE editions can be identified by its plain boards, while first printings are issued in quarter cloth.
Please refer to the gallery for detailed images of true first edition bindings and dust jackets.
Murder in Retrospect – First Edition Dust Jacket Identification Guide
First edition bindings and various dust jacket printings identification.
Reference: