Honor C. Appleton – British illustrator 1879-1951
Honor Charlotte. Appleton, born on 4 February 1879 in Brighton, one of four children, Honor C. Appleton painted watercolours while she was still a young girl. She attended the Art branch of the Kensington Schools before going to Frank Calderon's School of Animal Painting and then on to the Royal Academy of Arts in 1901.
She illustrated her first book, The Bad Mrs Ginger in 1902, while still a student at the RA School, and her second, William Blake's Songs of Innocence in 1910. Over the next forty years she illustrated more than one hundred and fifty books for children, using delicate watercolours and black and white pen drawings, and occasionally pen and wash, as in her illustrations to Tyrell's books about squirrels.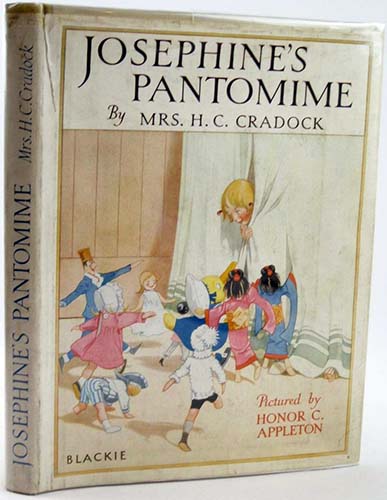 Honor C. Appleton is probably best known for her illustrations to the "Josephine" books, written by Mrs. Henry Cowper Cradock. The soft colours she used for this series are ideally suited to the gentle stories of a little girl playing with her family of dolls, including a sailor-suited duck called Quackie-Jack who appears in many illustrations. The illustrations are particularly interesting when a floor-level point of view is used, with adults appearing only from the knees down, which seemed to appeal to young children who naturally had the same perspective.
Some have criticized her watercolour illustrations for such books as the Songs of Innocence and the fairy tales for their "vague and pretty romanticism" and for their lack of definition, and praised her black and white drawings as much stronger (Whalley). Another writer however points out that, compared to many of her contemporaries, Appleton's illustrations "capture the air of innocence inherent in children without clouding it in sentimentality" (Halpin, 1990t).
Appleton also painted in watercolour, and exhibited at the Royal Academy. In 1952 the Hove Public Library exhibited seventy-two original paintings of her book illustrations, and the exhibition was later displayed in galleries around Britain. The artist unhappily did not see this exhibition, for she died on 30 December 1951 in Brighton where she had lived all her life.
Source: 20th Century British Book Illustrators, Alan Horne.
Honor C. Appleton Bibliography
The Bad Mrs Ginger (Grant Richards, 1902)
Dumpy Proverbs (Grant Richards, 1903)
Cradock, H. C. – Josephine, and her Dolls (Blackie, 1915)
____ Josephine's Happy Family (Blackie, 1916)
____ Josephine is Busy (Blackie, 1918)
____ Big Book of Josephine (Blackie, [1919])
____ Josephine's Birthday (Blackie 1919)
____ Where the Dolls Lived (S.P.C.K., [1919])
Perrault, C. – Fairy Tales (Simpkin Marshall, 1919)
Cradock, H. C. – Josephine, John and the Puppy (Blackie, 1920)
Appleton, H. C. – Babies Three (Nelson, 1921)
____ Me and My Pussies (Nelson, 1924)
Cradock, H. C. – Josephine Keeps School (Blackie, 1925)
____ The Bonny Book of Josephine (Blackie, [1926])
____ Josephine Goes Shopping (Blackie, 1926)
Edgar, M. C. – A Treasury of Verse for School and Home (Harrap, 1926)
Cradock, H. C. – Josephine's Christmas Party (Blackie, 1927)
____ Josephine Keeps House (Blackie, 1931)
Cruse, A. – The Golden Road in English Literature (Harrap, 1931)
Southwold, S. – The Book of Animal Tales (Harrap, 1932)
Cradock, H. C. – Josephine's Pantomine (Blackie, 1939)
____ Josephine Goes Traveling (Blackie, 1940)
Appleton, H. C. – Towlocks and his Wooden House (Chatto, n.d.)
Tyrrell, E. – How I Trained the Wild Squirrels (Harrap, n.d.)
The World's Best Stories for Children (n.d.)