Molly Bang – American Author & Illustrator 1943-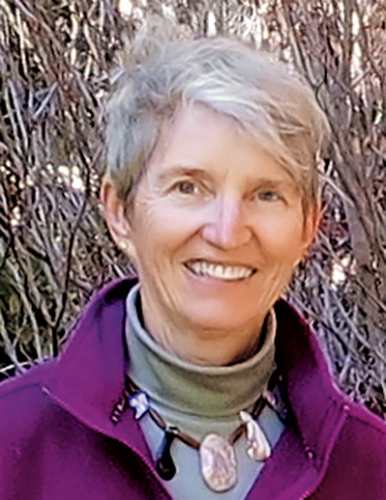 Molly Garrett Bang's picture books draw from the legends of many cultures and reflect her belief in the importance and power of folk­tales.
Born in Princeton, New Jersey; Bang has lived in Japan, India, and Mali and holds degrees in French and Oriental studies;. She has Said that she was inspired as a child to become an illus­trator by looking at the work of Arthur Rackham. After illustrating health manuals overseas, Bang began to collect and illustrate folktales. Her first book, The Goblins Giggle (1973) is a compilation of stories that she illus­trated with frightening black and gray paintings. The stories are filled with mystery and suspense, and the collection is notable for the fluency of its retelling.
Both Me Grey Lady and the Strawberry Snatcher (1980) and Ten, Nine, Eight (1983) were named Caldecott Honor Books. Grey Lady is a suspenseful, wordless picture book painted in rich gouache colors. The Grey Lady is pursued through the story by a frightening blue figure who attempts to steal her strawberries. The Grey Lady blends into the gray of the background un­til at times only her face, hands, and strawberries are discernible. The striking, unusual illustra­tions are, like Bang's folktales, full of surprises. Ten, Nine, Eight is a very different book, a rhyth­mic bedtime story that has been much com­pared to Margaret Wise Brown's Goodnight Moon. Bang wrote the text for her adopted Ben­gali daughter because she was concerned about the paucity of positive images of brown children in picture books. The gentle countdown to bed stars a happy girl surrounded by people, objects, and love.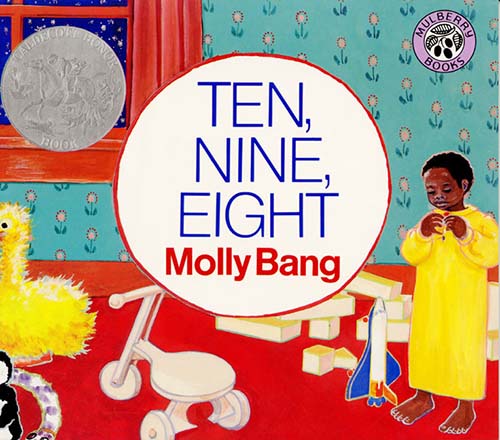 Molly Bang's many retellings of folktales have earned her a devoted readership and acclaim for her attention to detail and authenticity. Wiley and the Hairy Man (1976), a folktale from the southern United States, is the exciting story of a young boy and his mother who together outwit the frightening Hairy Man. Like The Goblins Giggle, it is illustrated entirely in black and gray paint, and Bang skillfully uses white space as an­other element in the page design. The Paper Crane (1988) was awarded the Boston Globe- Horn Book Award for illustration. The Japanese tale of a beggar who rewards a man for his gen­erosity and gives him a magic paper crane is il­lustrated with remarkable cut-paper collage. The three-dimensional artwork suits die text in which an origami crane turns into a live dancing bird. Bang achieved the same transformation in her art —a folded paper bird becomes a rounded, delicate crane in a series of cut and folded paper images. When Sophie Gets Angry— Really, Really Angry (1999), executed in a vivid, bright palette, explores the rage of a young girl. It garnered for Bang another Caldecott Honor Book.
Molly Bang's illustration style always matches the particular story and the sound of the text. Her illustrations for Sylvia Cassedy's collection of Japanese haiku, Red Dragonfly on My Shoulder (1992), are created from collages that include ob­jects such as a carrot, a bolt, and grains of rice. Bang's tutorial in design and visual composi­tion, Picture This: Perception and Composition (1992), leads the reader through exercises to un­derstand the art of illustration and how mean­ing is created through images.
Although she began as an artist, Molly Bang has re­told many of her own stories and' exhibits an awareness of the sounds of language, so her sto­ries read aloud particularly well. Molly Bang has made a place for herself through her willingness to ex­periment with illustration, her understanding of the power of traditional stories, and her skills as an artist and storyteller.
M.V.K.
Source: Children's Books and their Creators, Anita Silvey.
Molly Bang Bibliography
As writer or editor and illustrator
The Goblins Giggle, And Other Stories (1973)
Men From The Village Deep In The Mountains and Other Japanese Folk Tales (1973)
Wiley And The Hairy Man: Adapted From An American Folktale (1976)
The Buried Moon And Other Stories (1977)
The Grey Lady and the Strawberry Snatcher (1980)
Tye May And The Magic Brush (1981)
Yellow Ball (1991)
Ten, Nine, Eight (1983), a counting book
Dawn (1983)
The Paper Crane (1985)
Delphine (1988)
Picture This: Perception & Composition, foreword By Rudolf Arnheim (1991); revised as Picture This: How Pictures Work (2000)
One Fall Day (1994)
Chattanooga Sludge (1996)
Goose (1996)
Common Ground: The Water, Earth, And Air We Share (1997)
When Sophie Gets Angry—Really, Really Angry … (1999)
Nobody Particular: One Woman's Fight To Save The Bays (2000)
Tiger's Fall (2001)
My Light (2004)
In My Heart (2005)
Living Sunlight: How Plants Bring The Earth To Life (2009), by Molly Bang and Penny Chisholm
All of Me! A Book of Thanks (2009)
As illustrator only
The Old Woman And The Red Pumpkin; a Bengali Folk Tale, translated and adapted by Betsy Bang (1975)
The Old Woman And The Rice Thief, adapted from a Bengali folktale by Betsy Bang (1978)
Tuntuni, The Tailor Bird, adapted from a Bengali Folktale by Betsy Bang (1978)
The Demons Of Rajpur: Five Tales From Bengal, translated and adapted by Betsy Bang (1980)
David's Landing, by Judith Benét Richardson (1984)
Red Dragonfly On My Shoulder: Haiku, translated by Sylvia Cassedy and Kunihiro Suetake (1992)
From Sea To Shining Sea: A Treasury Of American Folklore and Folk Songs, compiled by Amy L. Cohn; illustrated by eleven Caldecott Medal and four Caldecott Honor Book artists (1993)
Harley, by Star Livingstone (2001)
Little Rat Sets Sail, by Monika Bang-Campbell (Harcourt, 2002) – first of three "easy-reader collaborations" by mother and daughter
Little Rat Rides, by Monika Bang-Campbell 2004)
Little Rat Makes Music, by Monika Bang-Campbell (2004)
Old Mother Bear, by Victoria Miles (2007)