Robert McCloskey – American author and illustrator, 1914-2003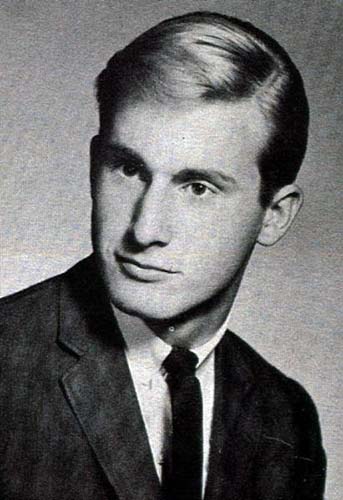 Probably best known for his picture books, includ­ing two Caldecott winners, Make Way for Duckling (1941) and Time of Wonder (1958), Robert McCloskey is also loved for his contemporary tall tales for older children, including Homer Price (1943) and for his illustrations for Keith Robertsons "Henry Reed" books.
McCloskey was born in Hamilton, Ohio, where he spent his youth in a town very much like the ones he lat­er described in Lentil (1940) and Homer Price. As a boy, his interests included drawing, music (harmonica and oboe), and inventing gadgets. After high school, he won a scholarship to the Vesper George School of Art in Bos­ton and continued his studies at the National Academy of Design in New York City. His first book, Lentil, was published in 1940, the same year he married Margaret Durand, the daughter of children's author Ruth Saw­yer. Though he had been awarded the Prix de Rome in 1939, World War II prevented his study abroad until 1949.
He spent the war in the United States, putting his inventing skills to use making visual aids. With charac­teristic humor and modesty, he says, "My greatest con­tribution to the war effort was inventing a machine to enable short second lieutenants to flip over large train­ing charts in a high breeze." In 1946, after the birth of their daughter, Sally, the McCloskeys moved to an island on the Maine coast, which provided inspiration for most of his subsequent books. These include Blueberries for Sal (1948), about a bear cub and its mother looking for blueberries on the same hill as Sal and her mother; One Morning in Maine (1952), in which Sal spends the morning with her father and loses her first tooth; and Time of Wonder, with its misty watercolors and evoca­tive text, which shows both the beauty of Maine and the variety of activities undertaken there.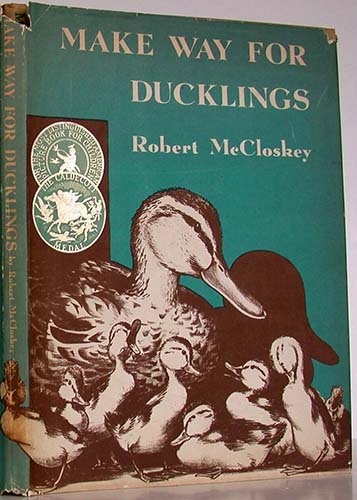 Robert McCloskey has described how he creates his stories. "The book starts with an idea/ideas inside my head. I imagine a lot of pictures. I almost have the book planned before I first put pencil to paper … It usually takes about two years from the first time I write the sto­ry until it ends up being a completed book. The first drawing has changed but the text reads almost exactly as it did in my first draft." Each of his books is a gem, and each accomplishes a different goal, though they are alike in their innocent, homey humor and the best kind of patriotism.
Blueberries for Sal, printed with blue ink, is sweet and cozy. Journey Cake, Ho! (1953) by Ruth Sawyer is appropriately bombastic with its red-brown brush line and blue-green litho crayon showing bold areas of pattern and white space. Time of. Wonder describes a summer in Maine, using paintings with a gentle and joyful color sense and With people depicted in a sketchy yet realistic way that is always kind. And Burt Dow, Deep-Water Man (1963) is brighter and mote carica­tured, with pinks, greens, reds, blues, and daring white space.
While he was working on the illustrations for Make Way for Ducklings, in which a family of mallard ducks walks through Boston's streets to the Public Garden, McCloskey realized he needed live models. He bought four mallard chicks at a market and brought them home to his New York City apartment. When he went to Bos­ton to sketch backgrounds, he brought back six more ducks. "All this sounds like a three-ring circus," he says, "but it shows that no effort is too great to find out as much as possible about the things you are drawing. It's a good feeling to be able to put down a line and know that it is right."
In his career, Robert McCloskey wrote and illustrated eight books and provided illustrations for ten more. Though he chose to stop illustrating in 1970, his combined skills as humorous storyteller and illustrator ensure the lon­gevity of his books.
L.R.
Source: Children's Books and their Creators, Anita Silvey.
---
Robert McCloskey Books
As author and illustrator
Lentil (1940)
Make Way for Ducklings (1941), Caldecott Medal winner
Homer Price (1943)
Blueberries for Sal (1948), a Caldecott Honor Award
Centerburg Tales: More Adventures of Homer Price (1951); also issued as More Homer Price
One Morning in Maine (1952), a Caldecott Honor Award
Time of Wonder (1957), Caldecott Medal winner
Burt Dow, Deep-water Man (1963)
As illustrator
Yankee Doodle's Cousins (1941) written by Anne Malcolmson
Tree Toad: Adventures of the Kid Brother (1942) by Bob Davis, illus. McCloskey and Charles Dana Gibson
Young America's English Book One (1942) by Helen Fern Daringer
The Man Who Lost His Head (1942) by Claire Huchet Bishop
Trigger John's Son (1949) by Tom Robinson
Journey Cake, Ho (1953) by Ruth Sawyer, a Caldecott Honor Book
Junket: The Dog Who Liked Everything "Just So" (1955) by Anne H. White
Henry Reed, Inc. (1958), by Keith Robertson
Henry Reed's Journey (1963), by Robertson
Henry Reed's Babysitting Service (1966), by Robertson
Henry Reed's Big Show (1970), by Robertson