Ed Young – Chinese-American Illustrator 1931-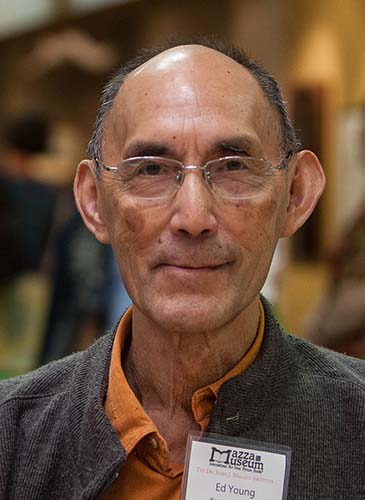 Mice, elephants, wolves, and rabbits are among the many animals brought vividly to life by picture book illustrator Ed Young, whose career began with lunch-hour sketches at New York's Central Park Zoo. A former architecture student, Young switched to art, graduating from the Art Center College of Design in Los Angeles before moving to New York to work in advertis­ing. While working, he continued to take art and design classes at Pratt Institute in Brook­lyn and was urged by friends who saw his ani­mal sketches to try illustrating children's books. When Young illustrated The Mean Mouse and Other Mean Stories (1962), written by Janice May Udry, he expected it to be his first and last book, but it won an American Institute of Graphic Arts award and launched a career that has re­sulted in over fifty books, including a few he wrote himself.
Born in Tientsin, China, Ed Young spent his childhood in Shanghai and attended high school in Hong Kong before moving to the United States in 1951, where he has lived since. He has il­lustrated numerous stories set in his native China, including the Caldecott Honor Book The Emperor and the Kite (1967), edited by Jane Yolen, and his own folktale retelling, the Calde­cott Medal winner Lon Po Po: A Red Riding Hood Story from China (1989). Skilled in the use of a variety of media, Young is also skilled in choos­ing the best medium with which to illustrate a particular story; one example is the ancient Chi­nese paper-cutting technique used in The Em­peror and the Kite, which perfectly suits the po­etic beauty of Yolen's narrative. In Lon Po Po, Young's illustrations reveal his interest in the panel art found in a number of cultures. The drawings are split into sections that give the art the appearance of Chinese decorative panels; however, strong color and dramatic angles transform the art, giving it a thoroughly con­temporary look.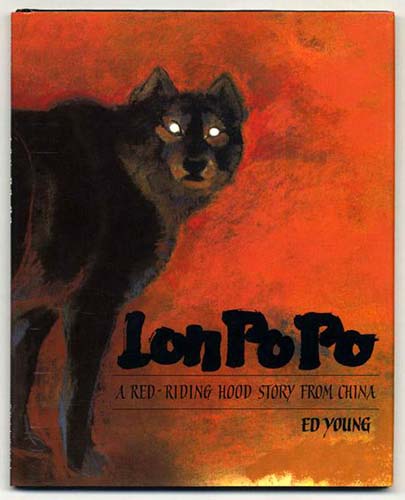 Ed Young has illustrated many tales from lands other than China, among them Seven Blind Mice (1992), another Caldecott Honor Book. In Young's version of the Indian fable, blind mice make humorously incorrect judgments about an object they encounter; only the seventh mouse, who examines the entire object, guesses rightly that it is an elephant — the moral is "Knowing in part may make a fine tale, but wisdom comes from seeing the whole." Another moral —"A change in circumstances can make the strong weak and the weak strong" — is illustrated in Young's rendition of The Lion and the Mouse (1979), the Aesop fable of the small creature who promises to one day repay the lion if he will spare him. A Jataka tale adapted by Rafe Mar­tin, Foolish Rabbit's Big Mistake (1985), is a ver­sion of the Chicken Little story.
Ed Young's large, brightly colored illustrations in the amusing tale differ from his earlier art, much of which resem­bles Indian miniatures. The striking and power­ful figures — in one case, a lion's paw fills an en­tire two-page spread — add impact to the story by placing readers at the center of the drama. The stories, folktales, fables, and myths Young has illustrated impart simple but sig­nificant truths about people and the world. The age-old technique of using animal stories to teach spiritual lessons has been given new life by this versatile and talented artist.
J.M.B.
Source: Children's Books and their Creators, Anita Silvey.