Cubism is an early-20th-century avant-garde art movement that revolutionized European painting and sculpture, and inspired related movements in music, literature and architecture. Cubism has been considered the most influential art movement of the 20th century.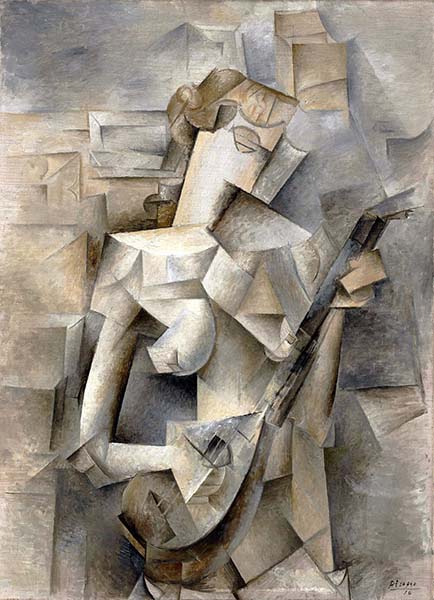 The movement was pioneered by Pablo Picasso and Georges Braque, joined by Jean Metzinger, Albert Gleizes, Robert Delaunay, Henri Le Fauconnier, and Fernand Léger. One primary influence that led to Cubism was the representation of three-dimensional form in the late works of Paul Cézanne. A retrospective of Cézanne's paintings had been held at the Salon d'Automne of 1904, current works were displayed at the 1905 and 1906 Salon d'Automne, followed by two commemorative retrospectives after his death in 1907. In Cubist artwork, objects are analyzed, broken up and reassembled in an abstracted form—instead of depicting objects from a single viewpoint, the artist depicts the subject from a multitude of viewpoints to represent the subject in a greater context
Analytic cubism (1909–1912) is a style of painting Pablo Picasso developed with Georges Braque using monochrome brownish and neutral colours. Both artists took apart objects and "analyzed" them in terms of their shapes. Picasso and Braque's paintings at this time share many similarities.
In Paris, Picasso entertained a distinguished coterie of friends in the Montmartre and Montparnasse quarters, including André Breton, poet Guillaume Apollinaire, writer Alfred Jarry and Gertrude Stein. In 1911, Picasso was arrested and questioned about the theft of the Mona Lisa from the Louvre. Suspicion for the crime had initially fallen upon Apollinaire due to his links to Géry Pieret, an artist with a history of thefts from the gallery. Apollinaire in turn implicated his close friend Picasso, who had also purchased stolen artworks from the artist in the past. Afraid of a conviction that could result in his deportation to Spain, Picasso denied having ever met Apollinaire. Both were later cleared of any involvement in the painting's disappearance.
Pablo Picasso's Artworks –

Analytic cubism: 1909–1912