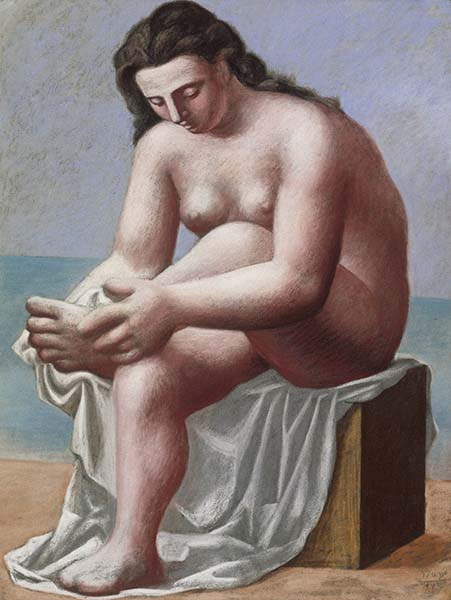 In February 1917, Pablo Picasso made his first trip to Italy. In the period following the upheaval of World War I, Picasso produced work in a neoclassical style. This "return to order" is evident in the work of many European artists in the 1920s, including André Derain, Giorgio de Chirico, Gino Severini, Jean Metzinger, the artists of the New Objectivity movement and of the Novecento Italiano movement. Picasso's paintings and drawings from this period frequently recall the work of Raphael and Ingres.
In 1925 the Surrealist writer and poet André Breton declared Picasso as 'one of ours' in his article Le Surréalisme et la peinture, published in Révolution surréaliste. Les Demoiselles was reproduced for the first time in Europe in the same issue. Yet Picasso exhibited Cubist works at the first Surrealist group exhibition in 1925; the concept of 'psychic automatism in its pure state' defined in the Manifeste du surréalisme never appealed to him entirely.
He did at the time develop new imagery and formal syntax for expressing himself emotionally, "releasing the violence, the psychic fears and the eroticism that had been largely contained or sublimated since 1909", writes art historian Melissa McQuillan. Although this transition in Pablo Picasso's work was informed by Cubism for its spatial relations, "the fusion of ritual and abandon in the imagery recalls the primitivism of the Demoiselles and the elusive psychological resonances of his Symbolist work", writes McQuillan. Surrealism revived Picasso's attraction to primitivism and eroticism.
Picasso's Artworks:

Neoclassicism and surrealism: 1919–1929