Ray Bradbury – American Author & Screenwriter 1920-2012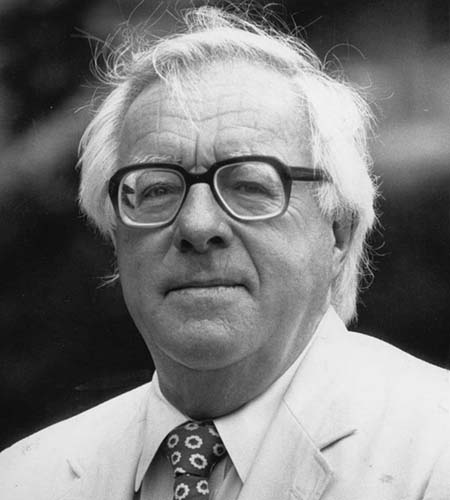 Though he has never learned to drive a car and will not fly (in airplanes), Ray Douglas Bradbury has been rocketing in and out of the far corners of interstellar space with the greatest of ease since boyhood. Born in Waukegan, Illinois, in 1920, he knew the Wizard of Oz by the time he was seven. He devoured the Tarzan tales of Edgar Rice Burroughs and then his novels of Mars. As Bradbury says now, Burroughs "took me out under the stars of Illinois and pointed above and said simply, 'Go There!'" Bradbury went and has never really come back, but he had earlier made a few excursions nearer home.
At the age of eleven, thrilled by a performance of Blackstone, he made up his mind to become the world's greatest magician. Equipped with a magic kit, a top hat, and a false mustache, he entertained happily at Odd Fellows and American Legion gatherings. Self­-dramatization was instinctive.
When the family moved to Arizona a year or two later, Bradbury took his imaginative and histrionic talents to the local radio station, where he was soon reading the comics over the air. When he was fourteen the family moved again. In Los Angeles High School he founded, edited, and wrote a quarterly magazine, Futuria Fantasia. On graduation in 1938 he joined Laraine Day's Little Theatre group but, determined to write, abandoned it a year later to become a newsboy on Olympic Boulevard, at the same time renting a room in a local office building to hammer away at his typewriter.
Ray Bradbury never had a chance—never gave himself a chance— to become other than the famous science-fiction writer that he has long been. In 1941, just before he was twenty-one, he sold his first story to a pulp magazine. He sold fifty more to the pulps, then took his stories into the slicks, becoming a Collier's and a Saturday Eve­ning Post regular with side trips into the more pretentious periodicals such as Harper's and The Nation. Energetic, assured, prolific, writing on a rigid schedule and always, he says, from his subconscious, Ray Bradbury has published more than a thousand short stories, appeared in over two hundred anthologies and textbooks, been translated into eighteen foreign languages, written plays and film scripts, and col­lected a fantastic number of awards.
He was included in Best American Short Stories in 1946, 1948, and 1952, and in the O. Henry Prize Stories in 1947. He received the Benjamin Franklin Award for the best magazine short story of 1953. He holds the Gold Medal of the Commonwealth Club of California, awards from the Aviation Space Writers Association, the Boys' Clubs of America, and the National Institute of Arts and Letters. In 1963 his United Artists film Icarus Montgolfier Wright, a symbolical his­tory of human flight, was nominated for an Academy Award. The Writers' Guild of America bestowed a Valentine Davies Award upon him "for bringing honor and dignity to writers every­where."
A popular writer from the pulps who thrills to Disneyland and who still treasures his big scrapbooks of Tarzan, Prince Valiant, Buck Rogers, and Flash Gordon comic strips, Ray Bradbury is credited by critics with having changed the concept and execution of science fiction. He did this notably with The Martian Chronicles, fifteen of his science fiction stories with eleven transitional passages added to form a novel. It is unique both in content and in the impact it has made. The Martian Chronicles was an immediate success when it was published in 1950, and its repute has been shiningly maintained since that time.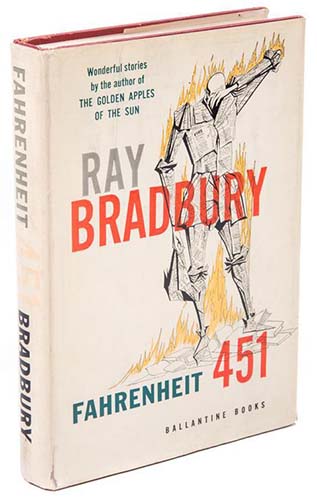 In UCLA's Powell Library, in a study room with typewriters for rent, Bradbury wrote his classic story of a book burning future, The Fireman, which was about 25,000 words long. It was later published at about 50,000 words under the name Fahrenheit 451, for a total cost of $9.80, due to the library's typewriter-rental fees of ten cents per half-hour.
Fahrenheit 451 is a 1953 dystopian novel. Often regarded as one of his best works, the novel presents a future American society where books are outlawed and "firemen" burn any that are found. The book's tagline explains the title as "'the temperature at which book paper catches fire, and burns": the autoignition temperature of paper. The lead character, Guy Montag, is a fireman who becomes disillusioned with his role of censoring literature and destroying knowledge, eventually quitting his job and committing himself to the preservation of literary and cultural writings.
The Martian Chronicles is a science fiction fix-up novel, published in 1950, that chronicles the settlement of Mars, the home of indigenous Martians, by Americans leaving a troubled Earth that is eventually devastated by nuclear war. The book is a work of science fiction, apocalyptic and post-apocalyptic fiction, dystopian fiction, and horror that projects American society immediately after World War II into a technologically advanced future where the amplification of humanity's potentials to create and destroy have both miraculous and devastating consequences.
The distinctive quality of The Martian Chronicles is not easily delineated. It is heroic in its imaginative sweep. It is compelling, sensitive, ironic, lyrical, satirical, idealistic… bitter, bittersweet, and, when Bradbury so chooses or cannot help it, electric. His golden-eyed Martians are more spirit than body, most of his Americans more body than brain. Both know fear, jealousy, suspicion, ambition, and the other elemental drives. Bradbury's descriptions of Mars are beau­tifully written, often beautifully over-written.
Few pieces of science fiction quote Ben Jonson, Wordsworth, and Sara Teasdale or go out of their way to defend Rudyard Kipling and Lewis Carroll, as this book does. No other example of the genre has anything like the fiendish and viciously indignant chapter—Bradbury calls it "Usher II"—based on the horror stories of Edgar Allan Poe. The book is not what is generally understood to be science fiction at all. Though vivid story, it is an essay dressed as fiction, or poetry masquerading as prose. Mars is not Mars, but was and could be again what other writers in other books have variously called Heaven, Paradise, Erewhon, Utopia—or even Hades.
Arthur C. Clarke, eminent English-born, Ceylon-based scientist and writer of non-fictional works and books on space exploration—as well as of science fiction—recently said that The Martian Chronicles made a tremendous impression on him when he first read it. "It is the only case I can ever remember when I went straight back to the beginning and read a story again immediately after finishing it. What is more, when I re-read it a year or so ago it still retained the old magic."
Ray Bradbury – First Editions Identification Guide
A comprehensive Guide to Ray Bradbury's First Edition Books.
Source: Limited Edition Club, Wikipedia