Richard Doyle – British illustrator (1824-1883)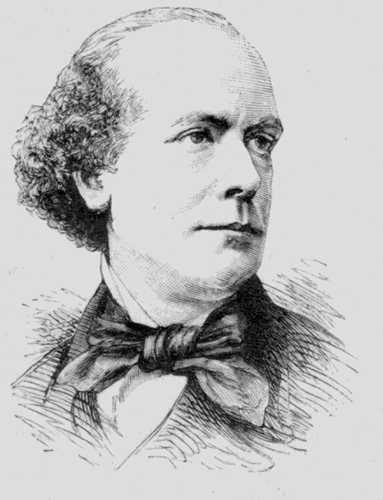 Richard Doyle (1824-1883) was bom in London into a large and talented family. (His nephew was to become Sir Arthur Conan Doyle, creator of Sherlock Holmes). Tutored by his father, John Doyle, a celebrated Irish graphic satirist, 'Dicky' drew from childhood with a delicate, easy line and fresh, decorative origi­nality. Inspired by memory or invention rather than life, he specialized in fantasy and gentle social satire and was particu­larly adept at conveying the vitality and individuality of crowds and processions.
When he was fifteen his first published work appeared. Dur­ing the year 1840 he kept a charmingly illustrated manuscript Journal, not published until 1885. By the age of nineteen he was contributing regularly to Punch and in 1849 he designed their famous magazine cover that was to be used for the next hundred years. However in 1850, Doyle, a devout Roman Catholic, resigned from Punch over its bitter attack on the papacy. He turned to book illustration and watercolour painting. Exhibi­tions of his work were shown at the Royal Academy in 1868 and 1871.
Richard Doyle's ability was keenly admired during his life­time and he was a frequent and welcome guest in fashionable society whose moods and mannerisms he so eloquently mir­rored. He collaborated with some of the most noted writers of the day, contributing ten sketches to Charles Dickens's series of Christmas books. He illustrated W.M. Thackeray's Rebecca and Rowena (1850), John Ruskin's The King of the Golden River (1851) and Thomas Hughes's The Scouring of the White Horse (1859).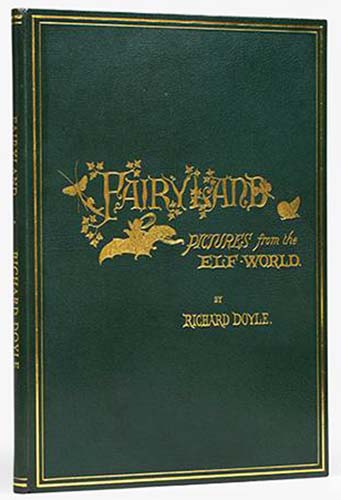 In 1849 Doyle provided pictures for The Enchanted Doll by his Punch colleague, Mark Lemon. The same year he did thirty wood-engravings for a collection of international folk tales, published posthumously as The Doyle Fairy Book (1890). Doyle's 'Fairyland Pictures from the Elf World' were already finished when the publishers, Longmans, Green, Reader, & Dyer, commissioned William Allingham (1824-1889) to write the accompanying verse. Together they appeared in the deluxe folio album In Fairy Land (1870). Allingham was an Irish poet, associated with the Pre-Raphaelite Brotherhood.
Although extremely expensive, In Fairy Land went into a second edition in 1875. The sixteen plates — undoubtedly Doyle's best work — were printed in eight to twelve colours as the largest, most ambitious wood-engravings undertaken by Edmund Evans. Doyle also did the gilt cover and spine design on the green cloth binding as well as the title-page lettering. His fairies, gnomes and elves, with their luminous eyes and distinc­tive faces, are highly sentimentalized. These amusing, lively, fanciful illustrations later inspired a second text.
At the sugges­tion of his friend and publisher, Charles Longman, the folklorist Andrew Lang (1844-1912), confident that he could exceed Allingham, invented a story to complement them. The Princess Nobody (1884), with a selection of Doyle's drawings, rearranged and reduced in size and content, was published under the imprint of Longmans, Green and Co. Lang merely succeeded in diminishing the impact of Doyle's superb artistry which ultimately overwhelmed both writers.
As a graceful and sympathetic artist of 'most excellent fancy', Richard Doyle proved a worthy Master Painter to the Court of Fairyland.
Source: English Illustrated Books for Children, edited by Margaret Crawford Maloney.