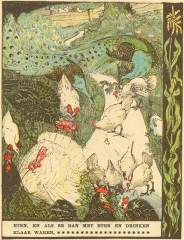 Theodorus (Theo) van Hoytema (Den Haag 1863-1917) achieved fame during his lifetime as a book-illustrator, painter and draughtsman. He is considered to be the most important representative of lithographic work in the Netherlands and his prints are well represented in two Dutch public collections.
I'm please to introduce Uilen-Geluk, one of the great pictures book by the Dutch artist Theo Van Hoytema. It's considered more of an Art Book than a children's book. The lithographs were printed from stones and is a rather expensive process and sold by G.M. Van Gogh, the uncle of the famous artist Vincent Van Gogh.
You will find some influence from the Japanese woodcuts and the impressionism in his artworks, but there are truly unique and can stand on their own. It's a very rare book and nearly impossible to find. Enjoy these great prints !