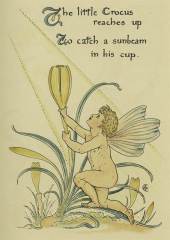 Walter Crane was the first of the grand triumvirate in children's book illustration who worked under the tute­lage of the English printer Edmund Evans. Crane, the son of an artist, developed his artistic talents from an early age and at seventeen exhibited at London's Royal Academy.
Over the course of his career Crane set himself many artistic challenges by choosing to illustrate a variety of texts, from alphabet books and brief rhymes to fully developed fairy tales, and he strove in all of these works to bring coherence to the overall appearance of the indi­vidual book. In addition to his books for children he created illustrated books for adults and several text­books about book design and illustration. When Crane died in 1915 he had become internationally known and admired, and his contributions to children's book illus­tration can still be seen in children's books of the late twentieth century.
Presenting here is one of Walter Crane's masterwork Flora's Feast: A Masque of Flowers, first published by Cassell and Company, London, 1889.