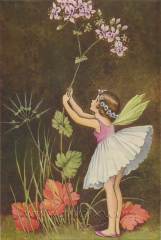 Ida Rentoul Outhwaite (1888 – 1960), was an Australian illustrator of children's books. Her work mostly depicted fairies.
Ida Rentoul Outhwaite is a well known and perhaps the most famous Australian children's book illustrator. She has a long and successful career and well loved around the world for her fairies illustrations. This is one of her later work, A Bunch of Wild Flowers, first published in 1933.
Fairies and flowers theme, it is strangely similar in theme to the work of Cecily Mary Barker and her Flowers Fairies. Cecile Barker is a very popular British illustrator at the end of 1920s with her flowers fairies series books. Perhaps Ida Rentoul Outhwaite took some inspiration from her books to create this work. It's unusual and strays a bit away from her early fairies, usually playful among friends.  Enjoy.