Arthur Rackham (1867 – 1939) was an English book illustrator. Rackham is widely regarded as one of the leading illustrators from the 'Golden Age' of British book illustration which encompassed the years from 1900 until the start of the First World War. During that period, there was a strong market for high quality illustrated books which typically were given as Christmas gifts.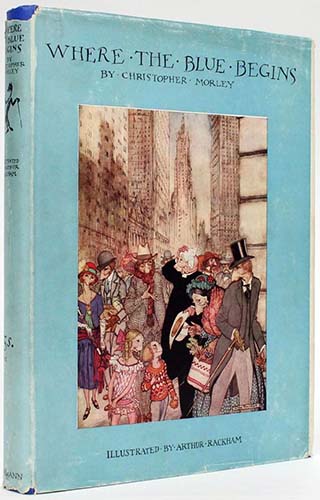 Many of Rackham's books were produced in a deluxe limited edition, often vellum bound and sometimes signed, as well as a larger, less ornately bound quarto 'trade' edition. This was often followed by a more modestly presented octavo edition in subsequent years for particularly popular books. He was one of the most prolific and most loved illustrator of children's book. Many of his work are still in print today.
Christopher Morley (1890 – 1957) was an American journalist, novelist, essayist and poet. He also produced stage productions for a few years and gave college lectures.
Where the Blue Begins is a satire by Christopher Morley about a dog named Gissing (after the author George Gissing) who lives alone (except for his Japanese butler Fuji the Pug), in a little house in the country, in a woodland suburb region called the Canine Estates. In this book all of the characters are dogs. Poodles, Spaniels, Chows, Beagles, Sealyham's, Mastiffs, Dachshunds, Whippets, Borzois', Airedales, Dobermann-Pinschers, Pointers and Scotties. The story appeared two years after Morley's collection of humorous essays Pipefuls. "No one appreciates the very special genius of your conversation as the dog does." What breed of dog was Gissing? Read the story and find out. (Latimore and Haskell, p. 60. Riall, p.154.)
Presenting the First edition of Where the Blue Begins, with four colour illustrations by Arthur Rackham. First published by William Heinemann, London, 1922.
Art Gallery: Arthur Rackham – Where the Blue Begins 1922