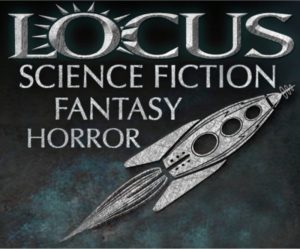 The Locus Awards are an annual set of literary awards by the science fiction and fantasy magazine Locus, a monthly based in Oakland, California, United States. The award winners are selected by polling magazine readers.
The awards are presented at an annual banquet. The publishers of winning works are honored with certificates, which is unique in the field.
The Locus list was inaugurated in 1971 for publication year 1970 and was originally more of a list than an award, intended to predict the Hugo Awards, and then to provide suggestions and guidance for them.
Winners of the Locus Award for Best SF Novel, awarded by the Locus magazine. Awards presented in a given year are for works published in the previous calendar year.

The award for Best Science Fiction Novel was first presented in 1980, and is among the awards still presented. Previously, there had simply been an award for Best Novel. A similar award for Best Fantasy Novel was also introduced in 1980.
Locus Award for Best Science Fiction Novel Winners
Locus Award for Best Science Fiction Novel

| Year | Book Title | Author | Publisher |
| --- | --- | --- | --- |
| 1978 | Gateway | Frederik Pohl | St. Martin's Press |
| 1980 | Titan | John Varley | Berkley Books |
| 1981 | The Snow Queen | Joan D. Vinge | Dial Press |
| 1982 | The Many Coloured Land | Julian May | Houghton Mifflin |
| 1983 | Foundation's Edge | Isaac Asimov | Doubleday |
| 1984 | Startide Rising | David Brin | Bantam Books |
| 1985 | The Integral Trees | Larry Niven | Del Rey Books |
| 1986 | The Postman | David Brin | Bantam Books |
| 1987 | Speaker for the Dead | Orson Scott Card | Tor Books |
| 1988 | The Uplift War | David Brin | Bantam Spectra |
| 1989 | Cyteen | C. J. Cherryh | Warner Books |
| 1990 | Hyperion | Dan Simmons | Doubleday |
| 1991 | The Fall of Hyperion | Dan Simmons | Doubleday |
| 1992 | Barrayar | Lois McMaster Bujold | Baen Books |
| 1993 | Doomsday Book | Connie Willis | Bantam Spectra |
| 1994 | Green Mars | Kim Stanley Robinson | Spectra/Bantam Dell/Random House |
| 1995 | Mirror Dance | Lois McMaster Bujold | Baen Books |
| 1996 | The Diamond Age | Neal Stephenson | Bantam Spectra |
| 1997 | Blue Mars | Kim Stanley Robinson | Spectra/Bantam Dell/Random House |
| 1998 | The Rise of Endymion | Dan Simmons | Bantam Books |
| 1999 | To Say Nothing of the Dog | Connie Willis | Bantam Spectra |
| 2000 | Cryptonomicon | Neal Stephenson | Avon |
| 2001 | The Telling | Ursula K. Le Guin | Harcourt |
| 2002 | Passage | Connie Willis | Bantam Books |
| 2003 | The Years of Rice and Salt | Kim Stanley Robinson | Bantam Books (US) Harper Collins (UK) |
| 2004 | Ilium | Dan Simmons | Harper Collins |
| 2005 | The Baroque Cycle (i.e. Quicksilver; The Confusion; The System of the World) | Neal Stephenson | William Morrow |
| 2006 | Accelerando | Charles Stross | Orbit (UK), Ace (US) |
| 2007 | Rainbows End | Vernor Vinge | Tor Books |
| 2008 | The Yiddish Policemen's Union | Michael Chabon | Harper Collins |
| 2009 | Anathem | Neal Stephenson | William Morrow |
| 2010 | Boneshaker | Cherie Priest | Tor Books |
| 2011 | Blackout/All Clear | Connie Willis | Spectra |
| 2012 | Embassytown | China Miéville | Pan Macmillan |
| 2013 | Redshirts | John Scalzi | Tor Books |
| 2014 | Abaddon's Gate | James S. A. Corey | Orbit Books |
| 2015 | Ancillary Sword | Ann Leckie | Orbit Books |
| 2016 | Ancillary Mercy | Ann Leckie | Orbit Books |
| 2017 | Death's End | Liu Cixin | |
| 2018 | The Collapsing Empire | John Scalzi | Tor Books |
| 2019 | The Calculating Stars | Mary Robinette Kowal[1] | Tor Books |
| 2020 | The City in the Middle of the Night | Charlie Jane Anders | Tor Books |
| 2021 | Network Effect | Martha Wells | Tor Books |