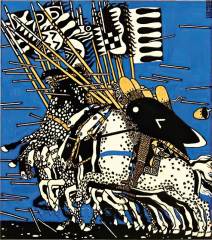 Carl Otto Czeschka (1878 — 1960) was an Austrian painter and graphic designer associated with the Wiener Werkstätte.
The holiday season is coming and I've been working extra hard on my project to re-scan the majority of the artwork in my gallery in addition to new books I've acquired over the past few months. This is my Christmas present to you, the most beautiful Art Nouveau illustrated book: Die Nilbelungen, illustrated by Carl Otto Czeschka, new prints in fresher colors.
Some of you may have a different opinion as which is the best. I do not have access to William Morris's works, nor Mucha's Ilsee, two of the most beautiful books of the Art Nouveau period. So I can only judge from what I have in my collection, among works by Van Hoytema, Heinrich Lefler, Eugene Grasset, Beardsley and a few other masters. Czeschka's Nibelungen won by its simplicity in the use of colors, beautiful graphic designs and his genius in the use of dual-panel to extend the view without breaking the singularity of each panel. Enjoy.