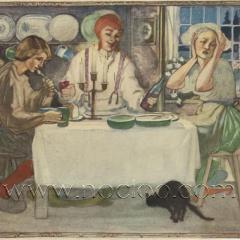 Cecile Walton (29 March 1891 – 23 April 1956), was a Scottish painter, illustrator and sculptor.
From an artistic family, Cecile Walton was the daughter of Glasgow Boys artist Edward Arthur Walton. She studied in London, Edinburgh, Paris and Florence and became a member of the Edinburgh Group, practicing in the capital as a painter, sculptor and illustrator. Influenced by the Symbolist style, her book illustrations for the fairy tales of Hans Christian Andersen perfectly capture the fanciful characters and stories of the Danish author.
– From the National Galleries of Scotland
Presenting to you the gorgeous illustrations from Hans Andersen's Fairy Tales. First published by T.C. & E.C. Jack, London,1911.