Shel Silverstein – American author/illustrator, poet, and songwriter, 1930-1999.
American author/illustrator, poet, and songwriter, 1930-1999. Born and raised in Chicago, Shel Sil­verstein says that he
"couldn't play ball, couldn't dance, and the girls didn't want me. So I started to draw and write."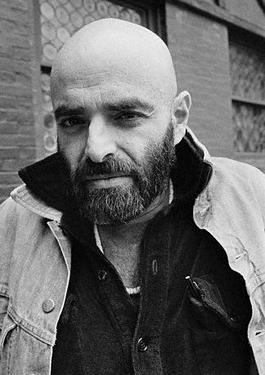 While serving with the United States forces in Japan and Korea in the 1950s, Silverstein was a cartoon­ist for the Pacific Stars and Stripes. A cartoonist for Play­boy magazine, a composer, and a lyricist—one of his most famous songs was the Johnny Cash hit "A Boy Named Sue"—Silverstein is best known for his humor­ous poetry, innovative drawings, and allegorical stories.
The Giving Tree (1964), Shel Silverstein's most successful book, was initially rejected by his future editor, who believed that "it was a nice book, but it would never sell." Despite an initial lack of interest, the book eventu­ally brought Silverstein national acclaim.
"Once there I was a tree… and she loved a little boy,"
begins the simple tale, illustrated in graceful cartoon style and touched with sadness. As a small child, the boy played in the shade of the tree, loving her as a friend; as he grew older, he began to want more from the tree than just her love. She gave him her apples, her branches, and her trunk.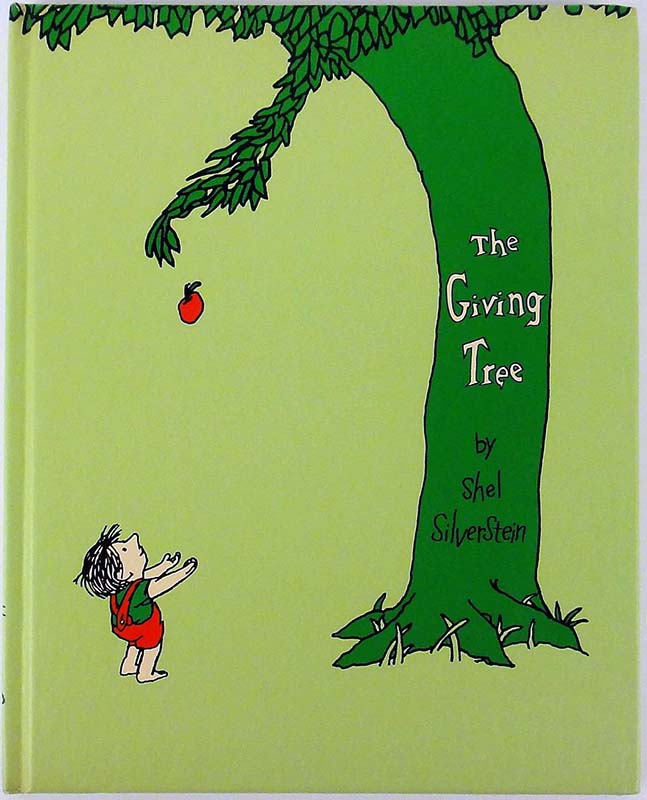 When he returns as an old man, she can only give him her stump upon which to rest—she has nothing left to give him, but she is happy. While some interpret this story as a parable about giving and taking, loving and being loved, others see it as a "dressed-up version of the 'happy slave' myth" and a tale of "man's selfish plunder­ing of the environment." The danger does exist that young readers will identify with the greedy, exploitative boy/man rather than with the generous, devoted tree.
The Missing Piece (1976) and its sequel, The Missing Piece Meets the Big O (1981), two books that revolve around simply drawn geometric shapes, have been accepted as tales of adaptation, growth, and the quest for self-fulfillment. In the first book, "it," a pie-shaped circle, searches for its missing piece only to realize that the piece isn't needed; in the sequel, it is the missing piece that arrives at the realization that it, too, can sur­vive by itself. With just a few lines and circles, Silverstein anthropomorphizes his inanimate objects, giving them individual personalities and human traits and allowing them to discover the gift of independence.
Shel Silverstein's poetry collections, Where the Sidewalk Ends: The Poems and Drawings of Shel Silverstein (1974) and the William Allen White Award winner A Light in the Attic (1981), provide a showcase for over 250 poems, some of which have been adapted from Silverstein's ear­lier song lyrics, and almost as many black-and-white line drawings. The poems, ranging from serious to silly, from philosophical to ridiculous, allow the reader or listener—the rhyme and rhythm of these nonsensical poems make them perfect for reading aloud—to dis­cover Silverstein's greatest gift: his ability to understand the fears and wishes and silliness of children.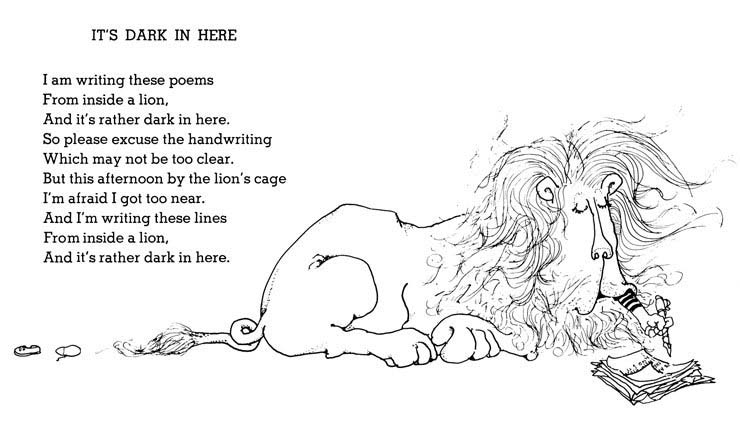 From the list of frightening "whatifs" that plague children at night ("Whatif my parents get divorced?" "Whatif nobody likes me?") to Mrs. McTwitter, the baby sitter who actu­ally sits on the baby, the poems are eerily attuned to the natural joy and playfulness of childhood. Allusions to belching, nose-picking, and the disruption of parental authority can be found in the poems as can statements of friendship and tolerance: "We're all worth the same/ When we turn off the light" and "I will not play at tug o' war/I'd rather play at hug o' war."
Shel Silverstein says that he doesn't believe in happy end­ings or magical solutions in children's books. Never­theless, with his hilarious poetry, expressively simple drawings, and provocative fables, he has succeeded in creating some magic of his own.
M.I.A.
Source: Children's Books and their Creators, Anita Silvey.
---
Shel Silverstein's Books
Take Ten (Pacific Stars and Stripes, 1955); reissued in paperback as Grab Your Socks! (Ballantine Books, 1956)
Now Here's My Plan (Simon & Schuster, 1960) (First collection of American magazine cartoons)
Uncle Shelby's ABZ Book (Simon & Schuster, 1960) (First book of original material for adults)
Playboy's Teevee Jeebies (Playboy Press, 1963)
Uncle Shelby's Story of Lafcadio: The Lion Who Shot Back (Harper & Row, 1963) (First children's book)
A Giraffe and a Half (HarperCollins, 1964)
The Giving Tree (HarperCollins, 1964)
Who Wants a Cheap Rhinoceros? (Macmillan, 1964)
Uncle Shelby's Zoo: Don't Bump the Glump! and Other Fantasies (Simon & Schuster, 1964)
More Playboy's Teevee Jeebies (Playboy Press, 1965)
Where the Sidewalk Ends (HarperCollins, 1974) (First collection of poems)
The Missing Piece (HarperCollins, 1976)
The Devil And Billy Markham (Playboy 25th Anniversary Issue, January 1979)
Different Dances (HarperCollins, 1979)
A Light in the Attic (Harper & Row, 1981) First Edition stated.
The Missing Piece Meets the Big O (HarperCollins, 1981)
Falling Up (HarperCollins, 1996)
Draw a Skinny Elephant (HarperCollins, 1998)·
Runny Babbit (HarperCollins, 2005) (Published posthumously)
Don't Bump the Glump! and Other Fantasies (HarperCollins, 2008 reissue)
Every Thing On It (HarperCollins, 2011) (Published posthumously)
Runny Babbit Returns (HarperCollins, 2017) (Published posthumously)