Sleeping Murder: Miss Marple's Last Case is a work of detective fiction by Agatha Christie and first published in the UK by the Collins Crime Club in October 1976 and in the US by Dodd, Mead and Company later in the same year. The UK edition retailed for £3.50 and the US edition for $7.95.
The book features Miss Marple. Released posthumously, it was the last published Christie novel, although not the last Miss Marple novel in order of writing. The story is explicitly set in 1944 but the first draft of the novel had been written even earlier than this during the Second World War. She aids a young couple who choose to uncover events in the wife's past life, and not let sleeping murder lie.
Plot Summary
[SPOILER ALERT]
Newlywed Gwenda Reed travels ahead of her husband to find a home for them on the south coast of England. In a short time, she finds and buys Hillside, a large old house that feels just like home. She supervises workers in a renovation, staying in a one-time nursery room while the work progresses. She forms a definite idea for the little nursery. When the workmen open a long sealed door, she sees the very wallpaper that was in her mind. Further, a place that seems logical to her for a doorway between two rooms proves to have been one years earlier. She goes to London for a visit with relatives, the author Raymond West, his wife, and his aunt, Miss Jane Marple. During the play, The Duchess of Malfi, when the line "Cover her face; mine eyes dazzle; she died young" is spoken, Gwenda screams out; she saw an image of herself viewing a man saying those words strangling a blonde-haired woman named Helen.
Gwenda was born in India where her father was stationed, then raised in New Zealand by her mother's sister from a toddler, once her mother died. Her father died a few years after her mother. She has memories of being on a ship, but it is clearly two ships. Miss Marple suggests that Gwenda lived in England with her father and his second wife, which proves to be the case. Her stepmother, Helen Halliday née Kennedy, met her father travelling from India back to England, where their shipboard romance led to marriage upon arrival in England. They rented a house in Dillmouth, where Helen grew up. The coincidences prove to be memories from Gwenda's stay in that house 18 years ago as a very young child. Now Gwenda ponders her frightening image and the closing words of the play: are they real memories as well? Her husband Giles arrives from New Zealand and the couple decide to pursue this mystery.
Helen was raised mainly by her half brother, Dr Kennedy, now retired from practice and moved to another village. He replies to an advertisement placed by Giles seeking information about Helen.
Miss Marple arranges to visit friends in Dillmouth. Miss Marple is often at the house, pulling out bindweed from the neglected garden. She finds the man who once gardened for the Kennedy family, brother and sister, who supplies several useful descriptions of events then. Miss Marple finds the cook from the Halliday household, Edith, who remembers that time well. The Hallidays were soon to move to a house in Norfolk before Helen disappeared. Helen wanted to get away. The servants presumed this was from her husband, but it was not. She was mainly interested in escaping her brother. She did fall in love with Halliday, and loved his daughter.
The Reeds advertise, seeking the Hallidays' former maid Lily. She writes first to Dr Kennedy, thinking he is a friend. She says that she does not believe that Helen ran off, as the clothes packed in her suitcase made no sense (taking an evening gown but not the shoes and belt that go with it). The Reeds and Dr Kennedy agree he should write back to her to arrange a meeting at his present home. Lily never arrives.
The police find Lily's body, strangled, in a copse near the train station. She came by an earlier train, but had Dr Kennedy's letter with her, for the later arrival time. Miss Marple advises Gwenda to tell the police everything. Soon, they are digging up the garden, at the end of the terrace, to find Helen's body. Gwenda is in the house alone when Dr Kennedy approaches her, ready to kill her by strangling when his attempt to poison her failed. Miss Marple arrives with a container of soapy solution, which she sprays in his eyes to stop the murder attempt.
Dr Kennedy had strangled his sister, saying the closing words from that play, unaware of young Gwenda at the stair railing above. He buried Helen in the garden. He set up her husband to think he had strangled her, but there was no body, so he was taken as insane, and died in a nursing home. His diary from that time showed him to be quite sane, but he could not explain what he had seen, his strangled wife next to him. Kennedy had first given drugs to make Halliday paranoid, and then drugged his drink so Dr Kennedy could pose him next to the strangled Helen. Then Kennedy moved her body again. The letter found with Lily was not the one she received from Kennedy; he switched it after he killed her. He knew the police would see through his scheme. He sent the nanny Leonie home to Switzerland with medicines that killed her. Miss Marple explains all this to the Reeds, the full confession from Kennedy and how they should have seen it from the start, from those words in the play.
Publication history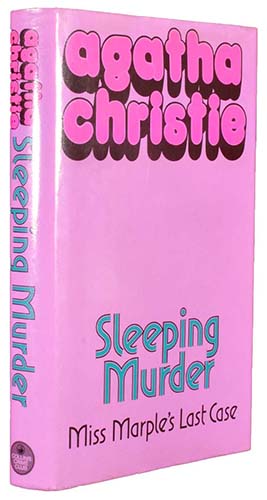 Agatha Christie wrote Curtain (Hercule Poirot's last mystery, which concludes the sleuth's career and life) and Sleeping Murder during World War II to be published after her death, and Sleeping Murder was written sometime during the Blitz, which took place between September 1940 and May 1941. Agatha Christie's literary correspondence files indicate that the initial draft of the novel eventually published as Sleeping Murder was written early in 1940.
Christie refers to the last Poirot and Miss Marple novels that she penned during the Second World War in her autobiography. She writes that she had written an extra two books during the first years of the war in anticipation of being killed in the raids, as she was working in London. One was for her daughter, Rosalind Hicks, which she wrote first – a book with Hercule Poirot in it – and the other was for Max – with Miss Marple in it. She adds that these two books, after being composed, were put in the vaults of a bank, and were made over formally by deed of gift to her daughter and husband.
The last Marple novel Christie wrote, Nemesis, was published in 1971, followed by Christie's last Poirot novel Elephants Can Remember in 1972 and then in 1973 by her very last novel Postern of Fate. Aware that she would write no more novels, Christie authorised the publication of Curtain in 1975 to send off Poirot. She then arranged to have Sleeping Murder published in 1976, but she died before its publication in October 1976.
By contrast to Poirot, who dies in the final novel, Miss Marple lives on. This last published novel is set in 1944, but follows novels set in later years and which show Miss Marple to have aged. In Nemesis, Miss Marple does no gardening on the advice of her doctor, showing the effects of her more fragile health; in Sleeping Murder, Miss Marple is frequently on her knees pulling bindweed from the neglected garden at the home of the Reeds, showing her to be stronger, and in the chronology of the fictional character's life, not working on her truly final case. There is a reference to a wireless set as being a special purchase by Lily were she to receive money by responding to the newspaper notice seeking her, which reinforces the story's setting in the 1930s as the author intended in her final revisions done in 1950.
Books are listed in the order of publication. While the majority of Christie's books were first published in the UK. There are many titles that were published first in the US and the title of the book and content may differs from the UK edition in rare cases.
Publication history
1976, Collins Crime Club (London), October 1976, Hardcover, 224 pp; ISBN0-00-231785-0
1976, Dodd Mead and Company (New York), Hardcover, 242 pp; ISBN0-396-07191-0
1977, Fontana Books (Imprint of HarperCollins), Paperback, 192 pp
1977, Bantam Books, Paperback
In the US the novel was serialised in Ladies' Home Journal in two abridged instalments from July (Volume XCIII, Number 7) to August 1976 (Volume XCIII, Number 8) with an illustration by Fred Otnes.
Sleeping Murder – First Edition Book Identification Guide
The books are listed in the order of publication. While the majority of Agatha Christie's books were first published in the UK. There are many titles that were first published in the US, the title of the book may differs from the UK edition in some cases.
| Year | Title | Publisher | First edition/printing identification points |
| --- | --- | --- | --- |
| 1976 | Sleeping Murder | William Collins & Sons, London, [1976] | First edition. "First Published 1976" stated on the copyright page. Black cloth lettered in gold. Price £3.50. |
| 1976 | Sleeping Murder | Dodd, Mead & Co, NY, [1976] | First American edition. "© Agatha Christie, Ltd., 1976" stated on the copyright page. Ginger boards, brown cloth spine lettered in gold. Price $ 7.95. |
Note about Book Club Editions (BCE) and reprints:
UK: You can see statements of later reprint dates or of book club on the copyright page.
US: The US reprint publishers usually use the same sheets as the first edition and are harder to identify by looking at the title page or the copyright page. One may identify a BCE by looking at the DJ, which doesn't have a price on top of the front flap and a "Book Club Edition" imprint at the bottom. If the dust jacked is clipped at both the top/bottom of the front flap. You can safely assume it's a BCE . If the book is missing the dust jacket. Later BCE editions can be identified by its plain boards, while first printings are issued in quarter cloth.
Please refer to the gallery for detailed images of true first edition bindings and dust jackets.
Sleeping Murder – First Edition Dust Jacket Identification Guide
First edition binding(s) and various dust jacket printings identification.
Reference: