Diana Wynne Jones – British Author 1934-2011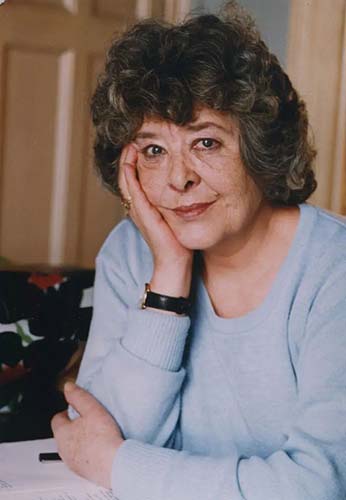 Diana Wynne Jones has recalled that she chose to write fan­tasy "because I was not able to believe in most people's version of normal life." Jones grew up in Britain during the disruptions of World War II, and her parents' devotion to their work as edu­cators often left her and her sisters to fend for themselves.
As an adult, she discovered that her children enjoyed the same sort of books she had missed having as a child, and she has continued to try to create such stories, "full of humour and fantasy, but firmly referred to real life." Writing for children and young adults, she has produced young adult novels, short stories, plays, and a picture book called Yes, Dear (1992). In her Dalemark novels — Cart and Cwidder (1975), Drowned Ammet (1977), and The Spellcoats (1979) "Jones explored the connections be­tween magic, folklore, and real life for the citi­zens of Dalemark, a land she invented.
She has frequently invoked a broader version of reality, one that extends beyond the bound­aries humans normally perceive. In The Home­ward Bounders (1981), beings known only as "They" play a vast game with a whole range of worlds. A Tale of Time City (1987) describes a city "that exists outside time and history" from which residents can influence events on Earth. For her Chrestomanci books — Charmed Life (1977), a Guardian Award winner; The Magicians of Caprona (1980); Witch Week (1982); and The Lives of Christopher Chant (1988) — Jones envi­sioned a universe of parallel worlds. From one of them, the Chrestomanci, a magician with nine lives strives to regulate the use of magic.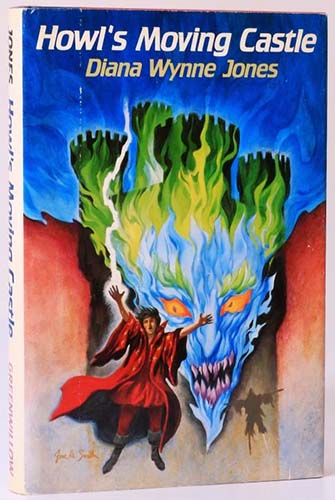 The Chrestomanci novels and a number of her other books feature gifted but as yet unrec­ognized protagonists who finally come into their own. While humor is prevalent, true disaster of­ten threatens. In Archer's Goon (1984), young Howard realizes that he is actually a wizard, just in time to prevent his siblings from attempting to conquer the world. Aunt Maria (1991) takes place in the village of Cranbury, where tradi­tional divisions between men and women, car­ried to extremes, have resulted in a serious im­balance of magical powers.
Dogsbody (1975) tells how the "luminary" inhabiting Sirius the Dog Star, unjustly banished into a dog's body on Earth, must remember his identity and find the mysterious Zoi before someone else misuses its power. Frequently Jones's characters must not only recognize their gifts but also learn to con­trol them. The Wizard Howl in Howl's Moving Castle (1986) almost comes to grief because he has over-exploited his talents by trading his own heart in a magical bargain.
Well known for her ingenuity, Jones may be­gin with elements from folklore or mythology, such as the tales of Tam Lin and Thomas the Rhymer for Fire and Hemlock (1984) or the Norse gods who appear in the contemporary world of Eight Days of Luke (1975), but in the end her stories, with their unusual twists, are all her own. Following those twists may occasionally present a challenge, but readers who choose to share her vision will have an uncommon imagi­native experience.
The British Fantasy Society recognised her significant impact on fantasy with its Karl Edward Wagner Award in 1999. She received an honorary D.Litt from the University of Bristol in July 2006 and the World Fantasy Award for Life Achievement in 2007.
M.F.S.
Source: Children's Books and their Creators, Anita Silvey.
Diana Wynne Jones Bibliography
Chrestomanci series
Charmed Life (1977) – Guardian Children's Fiction Prize; Carnegie Medal commendation;
The Magicians of Caprona (1980)
Witch Week (1982)
The Lives of Christopher Chant (1988) – Carnegie Medal commendation
Mixed Magics (2000), short stories published 1982 to 2000
Conrad's Fate (2005)
The Pinhoe Egg (2006) – Mythopoeic Fantasy Award Children's finalist; Locus Award Young Adult Book, 6th place
Dalemark Quartet
Cart and Cwidder (1975)
Drowned Ammet (1977)
The Spellcoats (1979)
Crown of Dalemark (1993) – Mythopoeic Award, Children's Fantasy
Derkholm series
Dark Lord of Derkholm (1998) – Mythopoeic Award, Children's Fantasy
Year of the Griffin (2000)
The Moving Castle series
Howl's Moving Castle (1986) – Boston Globe–Horn Book Award Fiction runner-up;2006 Phoenix Award
Castle in the Air (1990) – Mythopoeic Fantasy Award Children's finalist
House of Many Ways (2008) – Mythopoeic Fantasy Award Children's finalist