Warwick Goble – English Illustrator, 1862-1943.
Warwick Goble was bom in London in 1862. Goble was educated at the City of London School and studied art at the Westminster School of Art. For several years he worked for a printing firm specializing in chromolithography. He contributed to many magazines and joined the staff of the Pall Mall Gazette and later the Westminster Gazette as artist. Among his earliest illustrations are those for H.G. Wells' "War of the Worlds" in Pearson's Magazine.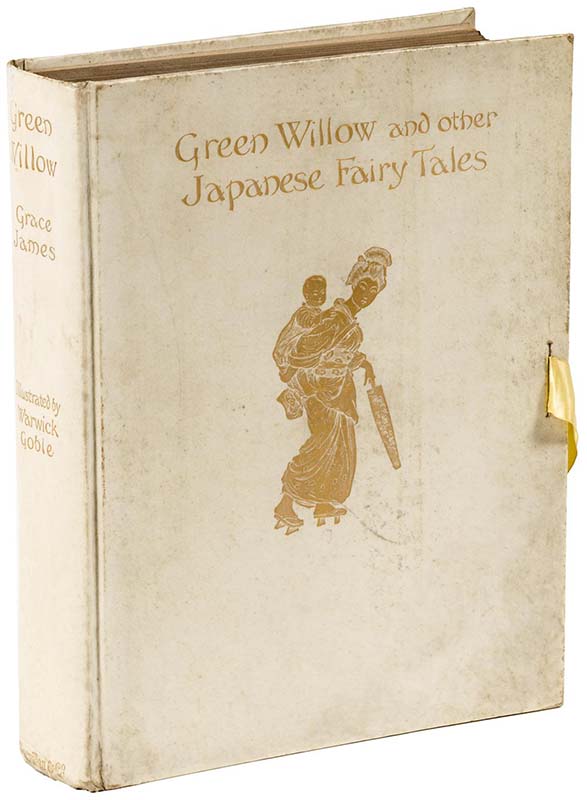 Strongly influenced by Oriental art, Goble's colour washes are extremely subtle. During his life he earned a reputation as a watercolour painter, exhibiting widely, including at the RA from 1893. He also illustrated books of fairy and adventure stories and he is best known today for the charm of these illustrations, most of which were reproduced as colour plates in gift books. His work has been criticized as being "bland", but Johnson writes that "Although at times overly precious and somewhat derivative in his designs, Goble's skill as a colorist compensates for his lack of intensity as an illustrator."
In 1909, he became resident gift book illustrator for MacMillan and produced illustrations for The Water Babies, Green Willow, and Other Japanese Fairy Tales, The Complete Poetical Works of Geoffrey Chaucer, Stories from the Pentamerone, Folk Tales of Bengal, The Fairy Book, and The Book of Fairy Poetry. During World War I, he was employed in the drawing office of Woolrich Arsenal, and volunteered for service with the Red Cross in France. He worked occasionally for New York MacMillan, and produced editions of Treasure Island and Kidnapped. Goble gradually gave up illustration to pursue sculling, cycling, and travelling. He died on 22 January 1943.
For a list of illustrations by Warwick Goble available on our site. Please visit our Warwick Goble Illustrated Books Art Gallery.