William Joyce – American Author, Illustrator and Filmmaker 1959-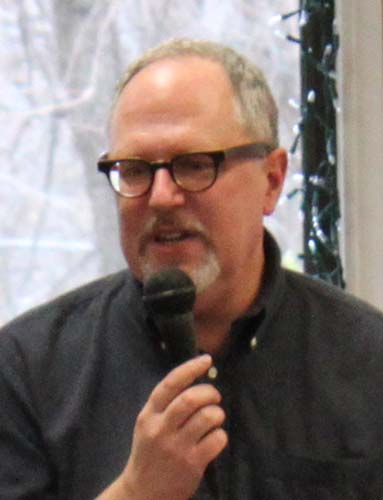 J. R. R. Tolkien spoke of the "cauldron of story." If ever there were a "cauldron of illustra­tion," William Joyce would be its master chef.
William Joyce, who resides in Louisiana, was educated at Southern Methodist University and sold paintings through galleries before discovering that children's book illustration provided the ideal mode of expression for the ideas simmer­ing in his imagination. His creations are a subtle blend of a lifetime of accrued American interests and influences, and each offers something for nearly everyone's tastes.
Every art aficionado will savor the rich, Edward Hopper-like paintings of Dinosaur Bob (1988). The minimalist text and expressive illus­trations recount the story of the family Lazardo and Bob, the dinosaur they befriend and bring home to New York from their safari in Africa. Add a few futuristic elements to the nostalgia of Dinosaur Bob and you have A Day with Wilbur Robinson (1990), in which a spaceship is parked on a lawn that, judging by the garb sported by those gracefully relaxing on it, one would think belonged to Gatsby. Wilbur's eccentric extended family is a surrealist's cup of fur: an uncle who blasts himself from a cannon, a robot, a cousin who floats with the aid of an antigravity device, and some yodeling frogs. The pokerfaced text relies on the visual punch lines to complete this story, in which Wilbur's visiting friend joins in the family search for Grandfather's missing teeth. After they are found — in a frog's mouth — everyone celebrates with a pillow fight.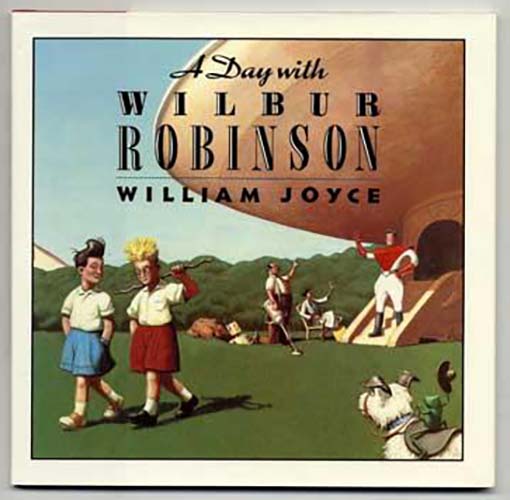 William Joyce, a fan of cartoons, television, and mov­ies (from science fiction and horror to classic), maintains that a career goal is to see one of his stories produced as a feature-length film. His enthusiasm for this medium is evident in Santa Calls (1993), which is the closest thing on paper to an animated film production and is the movie buff or fantasy lover's dream. Spiced with mo­ments of Wild West adventure and bravado, the story includes a trip to the North Pole by Art Atchinson Aimesworth; his little sister, Esther; and his best friend Spaulding, a young Coman­che. Unbeknownst to Art and Spaulding, the ad­venture has been arranged by Santa in an effort to meet Esther's only Christmas request: her brother's friendship. The wish is fulfilled when Art rescues Esther from the terrible Dark Queen.
Another book of movie influence is Joyce's first book as both author and illustrator, George Shrinks (1985), which Joyce has referred to as "King Kong in reverse." A young boy, George, awakes to find himself about the size of a mouse. On his night table is a list of chores left for him by his parents, which he manages to complete with comic ingenuity.
Joyce has even concocted something for the sentimentalist. Bently and Egg (1992), rendered in gentle pastels, contains a playful use of lan­guage. The affectionate story of Bently, who is asked to egg-sit for his friend, Kack Kack the duck, turns to adventure when the egg, beauti­fully painted by Bently, is mistaken for an Easter egg and heisted. Bently, however, successfully tracks it down and saves the day, not to mention the egg.
Joyce's work reached an even wider audience when the characters from Rolie Polie Olie (1999) became the stars of their own TV show. Joyce created several books about this buglike robot family, Snowie Rolie (2000), Sleepytime Olie (2001), and some board books, Olie (2001), Zowie (2001), and Spot (2001).
William Joyce's interests and influences blend so cre­atively in his work that, though detectable, they subconsciously meld to produce a completely original flavor. The results, the books that are "vintage Joyce," present a talent that pleases a great variety of tastes and satiates even the most finicky connoisseur.
E.K.E.
Source: Children's Books and their Creators, Anita Silvey.
William Joyce Bibliography
Books
My First Book of Nursery Tales / Retold by Marianna Mayer ; illustrated by William Joyce (1983)
Tammy and the Gigantic Fish / By Catherine & James Gray ; illustrated by William Joyce (1983)
Waiting for Spring Stories / By Bethany Roberts ; illustrated by William Joyce (1984)
William Joyce's Mother Goose / Illustrated by William Joyce (1984)
George Shrinks Written and illustrated by William Joyce (1985)
Shoes / Written by Elizabeth Winthrop (1986)
Dinosaur Bob and His Adventures with the Family Lazardo / (1988)
Humphrey's Bear / By Jan Wahl ; illustrated by William Joyce (1989)
Some of the Adventures of Rhode Island Red / By Stephen Manes ; illustrated by William Joyce (1990)
A Day with Wilbur Robinson / (1990)
Nicholas Cricket / By Joyce Maxner ; illustrated by William Joyce (1991)
Bently & Egg / (1992)
Santa Calls / (1993)
Don't Wake the Princess: Hopes, Dreams, and Wishes / Cover art (1993)
A Wiggly, Jiggly, Joggly Tooth / By Bill Hawley ; illustrated by William Joyce (1995)
The Leaf Men and the Brave Good Bugs / (1996)
Buddy / (1997)
World of William Joyce Scrapbook / by William Joyce ; photos by Philip Gould and design by Christine Kettner (1997)
Life with Bob (board book) / (1998)
Baseball Bob (board book) / (1999)
The Art of Robots / (2004)
The Art of Rise of the Guardians / (2012)
The Fantastic Flying Books of Mr. Morris Lessmore / (2012)
The Mischievians / (2013)
The Numberlys / co-illustrated with Christina Ellis (2014)
A Bean, A Stalk And A Boy Named Jack / (2014)
Billy's Booger / (2015)
Ollie's Odyssey / (2015)
Bently & Egg / (2017)
Series
Rolie Polie Olie series
Rolie Polie Olie (1999)
Rolie Polie Olie: How Many Howdys? (board book) (1999)
Rolie Polie Olie: A Little Spot of Color (board book) (2000)
Rolie Polie Olie: Polka Dot! Polka Dot (board book) (2000)
Snowie Rolie (2000)
Rolie Polie Olie- Character Books: Olie, Spot, Zowie, Billie (2001)
Sleepy Time Olie (2001)
Big Time Olie (2002)
Busy Books (2002)
Peakaboo You! (2002)
Rolie Polie Shapes (2002)
Be My Pal! (2002)
Rocket Up, Rolie! (2002)
The Guardians of Childhood series
Novels
Nicholas St. North and the Battle of the Nightmare King / written with Laura Geringer (2011)
E. Aster Bunnymund and the Warrior Eggs at the Earth's Core! / (2012)
Toothiana: Queen of the Tooth Fairy Armies / (2012)
The Sandman and the War of Dreams / (2013)
Jack Frost: The End Becomes the Beginning / (2018)
Picture books
The Man in the Moon (2011)
The Sandman: The Story of Sanderson Mansnoozie (2012)
Jack Frost (2015)