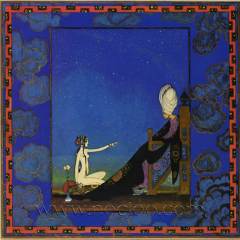 Kay Rasmus Nielsen (March 12, 1886 – June 21, 1957) was a Danish illustrator who was popular in the early 20th century, the "golden age of illustration". He joined the ranks of Arthur Rackham and Edmund Dulac in enjoying the success of the gift books of the early 20th century. Nielsen is also known for his collaborations with Disney for whom he contributed many story sketches and illustrations.
This is the last of my Kay Nielsen's updates. I've re-scanned all my first edition books for the third time using the latest scanner. I hope it will last for awhile, as the quality of the scans is closest to the originals. I'm very pleased that I don't have to break my books to scan those illustrations again.
Many illustrators have illustrated the Stories of Arabian Nights over the ages and are quite successfully at that: Edmund Dulac, E.J. Detmold, Rene Bull, Virginia Frances Sterrett … to name a just few illustrators from the Golden Age. Unfortunately, Kay Nielsen is not one among them. The illustrations he did for Arabian Nights project was not published during his life time and destined to be forgotten if it were not for David Larkin's great work "The Unknown Painting of Kay Nielsen". Published in 1977, Kay Nielsen's forgotten watercolors appeared in print for the first time and what an amazing feast it is. Truly original, departed from the usual traditional characteristics and often repeated visuals of the past and created his own unique vision of the stories. Which, in my view, are the best original illustrations for the Stories of Arabian Nights.
Published in paperback format, "cheap" edition. The quality of the reproduced illustrations are not quite on par with the Golden Age period. They are still good enough and that we all have to be thankful for. I hope in time, more people will get to know the works of this great artist and thanks to the Internet, his illustrations will get the attention and a place among the greatest that he truely deserve.
Finally, I wish to see his illustrations for Arabian Nights Stories published, with the quality they deserve. If you happen to know where the originals are, please let me know! It's my dream to see the sets in real life.