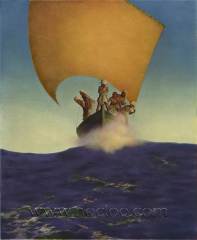 Maxfield Parrish (July 25, 1870 – March 30, 1966) was an American painter and illustrator active in the first half of the 20th century. He is known for his distinctive saturated hues and idealized neo-classical imagery.
Presenting Arabian Nights, illustrated by Maxfield Parrish, one of America's most loved illustrator. First published in 1909 by Scribners & Sons. This is Parrish's most popular book and is still in print today. It is not his best work and the quality of reproduction have lots of be desired. It is far behind the quality of children's books published in England during the same period. Still, we'll have to note that Parrish's colors are not easy to reproduce accurately by any means.
I prefer the Poems of Childhood and in my opinion his best book, Knave of Hearts over the Arabian Nights. Enjoy these wonderful illustrations.