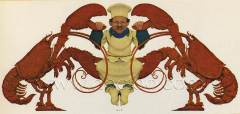 Maxfield Parrish (July 25, 1870 – March 30, 1966) was an American painter and illustrator active in the first half of the 20th century. He is known for his distinctive saturated hues and idealized neo-classical imagery.
Knave of Hearts is Maxfield Parrish's most elaborate work and one of the most beautiful illustrated book of all time and quite rare for obvious reason. First, the book is of a very high quality production, as you know Parrish's colors are quite hard to produce accurately. Second, beautifully designed and profusely illustrated with sublime illustrations. Third, it's published in large format, 14 x 11 1/2, thus the prints are suitable for framing and unfortunately, many did break the book up for the prints, which are sold in the hundreds of dollar each on the market.
Knave of Hearts was first published in 1925 by Charles Scribners and Sons and I guess due to demand, it was re-published a few months later in a cheaper soft-cover, spiral bound format. I do not have the spiral copy, thus cannot attest to the reproduction quality of the later .
The Knave of Hearts is his most beautiful work at the pinnacle of his career as an artist and it's his last illustrated book. He went on to do mostly commercial art for magazines, posters design, etc.  Like 99% the illustrations presented on my site, they come from the first edition to keep the original colors and details. This one is particularly hard to scan, they are over-sized and do not fit on the surface of my scanner. I have to stitch them together from multiple scans. Due to the colors gradient, Photoshop has some major problems joining them together. Took me close to a hundred scans and dozens hours to put them in for your perusals. Enjoy these illustrations by America's most popular and beloved illustrator.