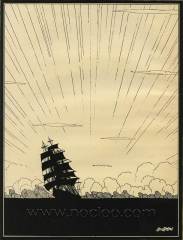 Harry Clarke (March 17, 1889 – January 6, 1931) was an Irish stained-glass artist and book illustrator. Born in Dublin, he was a leading figure in the Irish Arts and Crafts Movement.
Harry Clarke the younger was exposed to art (and in particular Art Nouveau) at an early age. He went to school in Belvedere College in Dublin. By his late teens, he was studying stained glass at the Dublin Art School. While there his The Consecration of St. Mel, Bishop of Longford, by St. Patrick won the gold medal for stained glass work in the 1910 Board of Education National Competition.
If Aubrey Beardsley had an heir, it is Harry Clarke. He was a great artist with unique gifts as a draughtsman, whose career like Aubrey Beardsley's was cut short by tuberculosis. It is with great pleasure for me to re-introduce new scans of The Year's at the Spring book, illustrated by Harry Clarke, with almost perfect reproduction of his painstakingly detailed works. Enjoy these amazing prints.