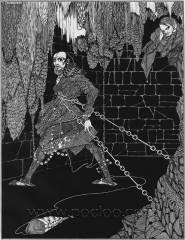 Harry Clarke (March 17, 1889 – January 6, 1931) was an Irish stained-glass artist and book illustrator. Born in Dublin, he was a leading figure in the Irish Arts and Crafts Movement.
Harry Clarke the younger was exposed to art (and in particular Art Nouveau) at an early age. He went to school in Belvedere College in Dublin. By his late teens, he was studying stained glass at the Dublin Art School. While there his The Consecration of St. Mel, Bishop of Longford, by St. Patrick won the gold medal for stained glass work in the 1910 Board of Education National Competition.
I spent my Memorial holiday re-scanning a few of my favorite books and I'd like to present the most beautiful illustrated rendition of Edgar Allan Poe's classic "Tales of Mystery and Imagination" by Harry Clarke.
Hans Christian Andersen's Fairy Tales was his first printed work in 1916 – a title that included 16 color plates and more than 24 monotone illustrations. This was closely followed by an illustrations for an edition of Edgar Alen Poe's Tales of Mystery and Imagination – the first version of that title was restricted to monotone illustrations while a second printing with 8 color plates and more than 24 monotone images was later published in 1923. Both are present in our gallery. Enjoy the most haunting illustrations and best illustrated rendition of Poe's Tales.