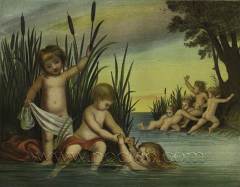 Eleanor Vere Gordon Boyle (1 May 1825 – 29 July 1916) was an English artist and author of the Victorian era. She has been considered the most important female illustrator of the 1860s.
Another important milestone reached, 3000+ images all scanned by hand and we are by far the largest archive of Golden Age illustrations on the Internet.  I'm pleased to bring you the most beautiful Andersen's Fairy Tales from the Victorian period, first published in 1872 by Sampson Low and illustrated by Eleanor Vere Boyle (E.V. Boyle).
Twelve chromolithographs, all sublime, a fine present for this special occasion. You can support us by buying an unique print to adorn your room. Every penny helps to pay for the cost of hosting and preserving the lost art of the great illustrators of the past.
Thank you for your continuing support over the years and see you at 4000.