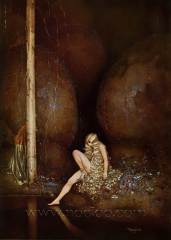 Gustaf Adolf Tenggren (November 3, 1896 – April 9, 1970) was a Swedish-American illustrator. He is known for his Arthur Rackham-influenced fairy-tale style and use of silhouetted figures with caricatured faces.
Here are the new scanned illustrations from The Red Fairy Tales, illustrated by Gustave Tenggren, published by McKay, New York, 1924. It is one of the title among the colored fairy series by edited by Andrew Lang, previously illustrated by H.J. Ford.
This is one of Tengreen's most beautiful illustrated book, about 10 years before he joined Disney Studio where his style completely changed. Enjoy these beautiful illustrations !