Ludwig Bemelmans – American author and artist, 1898-1962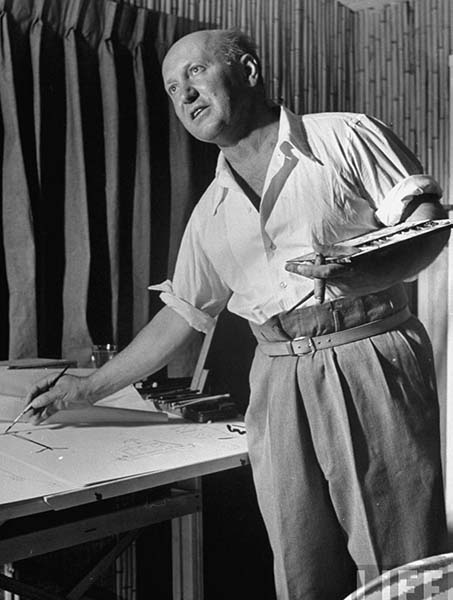 Through­out his life, Ludwig Bemelmans saw himself, first and foremost, as a painter, despite his considerable success at writing for both children and adults. He wrote short stories, novels, articles, essays, poetry, and reminiscenc­es of all sorts, and he always wrote about what he saw— usually with great wit, charm, and honesty. He was forty-one years old when Madeline was published in 1939, but everything in the book was drawn from a child's point of view—the enormously tall and energetic teacher Miss Clavel, the twelve identically shaped little girls, the color, splash, and joy of the streets of Paris. Best of all was the simplicity and directness of his line.
Ludwig Bemelmans emigrated to the United States from Ger­many in 1914, when he was sixteen. He had been raised in the Austrian Tyrols and in Bavaria and learned to speak Wench and later German. During his early child­hood he lived in a hotel his father owned and managed, and later, in New York, he worked his way up in the hotel business to support himself. On the side he pur­sued what gave him the greatest pleasure—painting and drawing.
Ludwig Bemelmans's first children's book, Hansi (1934), recounts a young boy's visit to his uncle's mountain home in the Austrian Tyrols; The High World (1954) is also an adventure set where Bemelmans grew up. These long storybooks, with half-page illustrations through­out, were similar in format to The Golden Basket, which was a Newbery Honor Book in 1937. In this story, two girls tour Bruges with their father, encountering one day twelve little girls out for a walk, one of whom is called Madeline. Bemelmans was an inveterate traveler, and it was a visit to Belgium with his wife, Madeline Freund, that inspired The Golden Basket.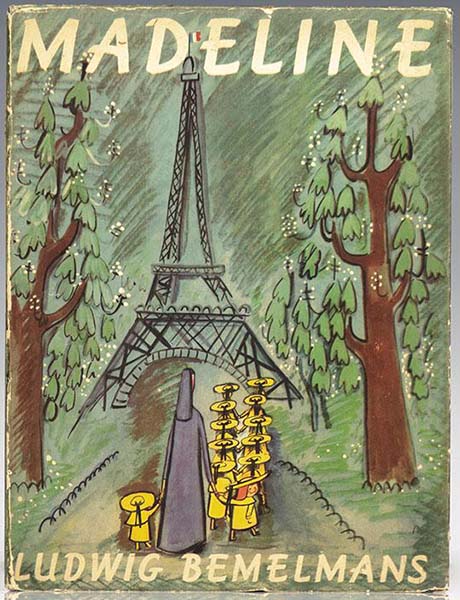 His great success as an artist is that he conveys much childlike joy, energy, and spontaneity in his work. Mad­eline (1938), a Caldecott Honor Book, was followed by five other stories in a similar large, spacious format about the fearless little girl who always stepped out of line and found her way to adventure. Madeline's Rescue (1953) won the Caldecott Medal in 1954, and after that came Madeline's Christmas in Texas (1955), Madeline and the Bad Hat (1956), Madeline and the Gypsies (1959), and Madeline in London (1961). Of all Bemelmans's books for children, these are the ones that have stayed in print and won the loyally of countless readers.
The original inspiration for Madeline was the convent where Bemelmans's mother was educated as a child, along with the author's own experience in board­ing school, where he walked with his classmates in two straight lines. The story itself grew in Bemelmans's imag­ination as he recuperated from a biking accident in France; a little girl in the same rural hospital had just had her appendix out. The text for Madeline is brief, written in rhyming couplets, and the memorable open­ing lines are found in other "Madeline" books: "In an old house in Paris I that was covered with vines / lived twelve little girls in two straight lines."
Luwig Bemelmans wrote more than fifteen children's books and more than twenty for adults, including anecdotal collections about his years in the hotel business, diaries of his World War I experiences in the U.S. Army, and, later, writings about Paris, which he loved and which became his second home.
When Bemelmans was becoming established as a painter in New York, his work was exhibited and sold in galleries, and he found the public role of a gallery artist very unpleasant. But eventually he discovered a way to maintain his privacy and still have a wide audience for his work. In his Caldecott acceptance speech for Made­line's Rescue, he explained:
"I looked for another way of painting, for privacy; for a fresh audience, vast and crit­ical and remote, to whom I could address myself with great freedom… I wanted to paint purely that which gave me pleasure … and one day I found that the audi­ence for that kind of painting was a vast reservoir of impressionists who did very good work themselves, who were very clear-eyed and capable of enthusiasm. I addressed myself to children."
K.M.K.
Source: Children's Books and their Creators, Anita Silvey.
---
Ludwig Bemelmans Books
Madeline series
Each Madeline story begins: "In an old house in Paris, that was covered with vines, lived twelve little girls in two straight lines… the smallest one was Madeline." The girls are cared for by Miss Clavel. She is likely a nun, as some French orders called themselves Madames, particularly that of St. Madeleine Sophie Barat, after which this convent school seems to be modeled; and "Mrs." would not be an appropriate equivalent in English. Some have argued that Miss Clavel's apparel looks more like that of a nurse (although why a nurse is working in what appears to be a Paris convent school is not explained).
Other characters include Pepito, son of the Spanish ambassador, who lives next door; Lord Cucuface, owner of the house; and Genevieve, a dog who rescues Madeline from drowning in the second book. Bemelmans published six Madeline stories in his lifetime, five as picture books and one in a magazine. A seventh was discovered after his death and published posthumously:
Madeline, 1939: in which Madeline must have her appendix removed
Madeline's Rescue, 1953: in which Madeline is rescued from drowning by a dog (later named Genevieve). Winner of the Caldecott Medal for U.S. picture book illustration
Madeline and the Bad Hat, 1956: in which the "bad hat" is Pepito, the Spanish ambassador's son, whose cruel antics outrage Madeline.
Madeline and the Gypsies, 1959: in which Madeline and Pepito have an adventure at a circus.
Madeline in London, 1961: in which Pepito moves to London, and Madeline and the girls go to visit him.
Madeline's Christmas, 1985: in which everyone in the house catches cold, except Madeline. (First published in McCall's in 1956).
Madeline in America and Other Holiday Tales, 1999: in which Madeline inherits a fortune from her American great-grandfather. The book also reveals Madeline's full name, Madeline Fogg.