William Heath Robinson (1872-1944) was an exemplary book illustrator and cartoonist, "the only British illustrator to become a 'household name'" (Houfe), a contemporary of acclaimed illustrators Arthur Rackham and Edmund Dulac, best known for his cartoons portraying elaborate and whimsical machinary made to complete simple tasks.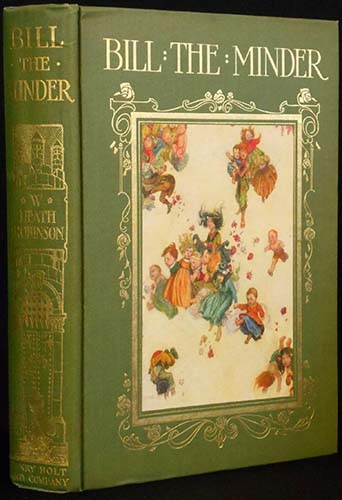 In fact, his fame was such that the term "Heath Robinson" was used in the United Kingdom to refer to such machinary, much as the term "Rube Goldberg" was used in the United States. "Bill the Minder" is written and illustrated by W. Heath Robinson, and this first UK edition is replete with line drawings in Robinson's bold and confident style (well over 100, including chapter head- and tail-pieces), as well as sixteen colour plates visualising the fanciful world the characters explore.
Bill the Minder is a brilliant and hilarious novel featuring the eponymous hero and the children he minds–the nine rambunctious offspring of old Crispin the mushroom-gatherer–through their picaresque adventures, which conclude with the siege and capture of a Troy. The absurd and eccentric inventions for which Robinson was revered–imagine a partnership between MacGyver and Rube Goldberg–have their origins here. The book was heralded by one contemporary reviewer as "surely the most charming juvenile since Peter Pan." Wrote another: "Child or grownup, the book will fascinate you, text and illustrations intermingling into one long delicious fancy that would make the longest and wettest day a blessing to the most restless."
Presenting the First edition of Bill the Minder, written and illustrated by W. Heath Robinson. Published by Constable & Co, London, 1912.
Art Gallery:

W. Heath Robinson – Bill the Minder 1912