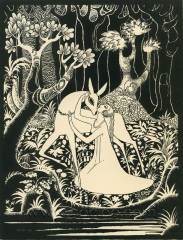 Kay Rasmus Nielsen (March 12, 1886 – June 21, 1957) was a Danish illustrator who was popular in the early 20th century, the "golden age of illustration". He joined the ranks of Arthur Rackham and Edmund Dulac in enjoying the success of the gift books of the early 20th century. Nielsen is also known for his collaborations with Disney for whom he contributed many story sketches and illustrations.
My old faithful scanner, an Epson 3490 just died a few days back and I've bought a new Epson V350 for a few books I planned to scan. But before that, I put it to the test and see what is better from the old respectful one I had. All I can say is Whooooaaa, what a year in technical innovation can do.
I put my Limited Edition of Hansel and Gretel, illustrated by my favorite illustrator Kay Nielsen on the scan bed again. My old scanner has a bit of problem scanning one of the illustrations and I just want to see what is improved. To my surprise, the new scanner can produce a much more vibrant colors, with lots more details and the result is just close to perfect.
So in the testing process, I've scanned 10 others B/W illustrations from the same book that I did not scanned previously for your perusals, these are new.
Now to the good thing and bad thing. The good thing is the quality of the scanned images are almost perfect as they can be, without having to spend thousands of dollars for the latest & greatest. However, you won't see a big difference in term of quality in the reduced image. The bad thing is, when looking back at my one year of work on this site. I'm not entirely pleased with the quality of the old prints and I want to put all the books back to the scanner again in addition to the new books that I've just acquired.
So I'll be doing both for awhile for the next year. Updating some of my old favorite ones and adding new books as they come. Enjoy.
-Minh Lai