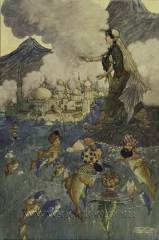 Arabian Nights, the stories of one thousand and one nights.  The stories that never ends … is a book that I've read and re-read countless to times over the years. I can never forget the first time I met Sindbad the Sailor in his grand palace nor Ali Baba in the treasures cave.
Arabian Nights stories is indeed a treasure which gave countless illustrators the inspiration to work on the illustrations for those magical tales to this day and many more future generations. Many great illustrators have worked on the Stories of Arabian Nights, including Edmund Dulac, Kay Nielsen, Virginia Frances Sterrett, E.J. Detmold, Maxfield Parrish, Willy Pogany and now the work of Charles Folkard.
Charles James Folkard, British Illustrator was a prolific children's book illustrator. During his long career, he did illustrations of many children's books, some most notable are the Arabian Nights, Alice's Adventures in Wonderland, Aesop's Fables.
Now please join me for an Arabian Adventure in the wonderful world of Charles Folkard.