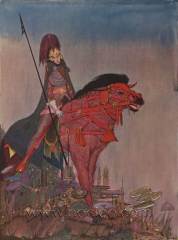 Harry Clarke (March 17, 1889 – January 6, 1931) was an Irish stained-glass artist and book illustrator. Born in Dublin, he was a leading figure in the Irish Arts and Crafts Movement.
I'm please to re-introduce Harry Clarke, one of the most talented Golden Age illustrator in a new edition of Edgar Alan Poe's Tales of Mystery and Imagination. The original first edition of Harry Clarke illustrations of Edgar Alan Poe's Tales is no doubt the best illustrated Poe ever. In the new edition of the Tales of Mystery and Imagination , published in 1923 by Harrap, Harry Clarke have added eight new colour plates and one new B/W plate.
The eight new color plates is a big addition to an already perfect book, but I still prefer the original edition. His B/W illustrations is far superior to his watercolors and while the colors plates are beautiful, they present a certain distraction compare to his B/W plates and the darkness of E.A. Poe's tales.