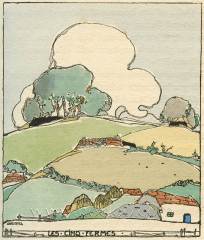 Jessie Marion King (March 20, 1875 – August 3, 1949) was a Scottish illustrator mostly of children's books. She also designed jewellery and fabric, and painted pottery.
King was made Tutor in Book Decoration and Design at Glasgow School of Art in 1899. Her first published designs, and some people believe her finest, were for the covers of books published by Globus Verlag, Berlin between 1899 and 1902. The publisher was a subsidiary company of the great Berlin department store, Wertheim's. She was influenced by the Art Nouveau of the period and her works correspond in mood with those of The Glasgow Four.
On this New Year's Eve, I'd like to take the time to thank all of you for your continuous support and wish you all the best for the year to come. On this special occasion, I'm presenting one of Jessie Marion King's rarest book, Habitation Forcee, published by Kieffer, Paris 1921 in a limited edition of 500 copies. Featuring 21 marvelous hand-color pochoir illustrations. Happy New Year !!