Last Updated on
Kate Douglas Wiggin – American author, 1856-1923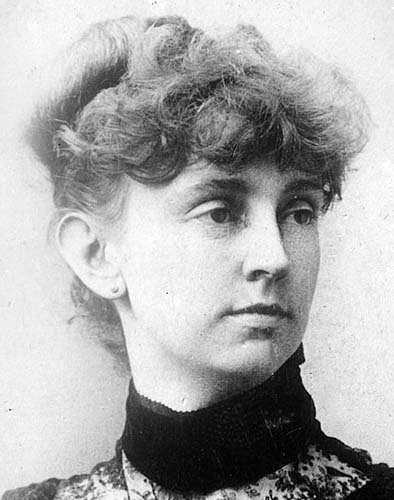 When Kate Douglas Wiggin wrote Rebecca of Sunnybrook Farm (1903) over ninety years ago, she created a child who stepped into that elite group of book characters whose names are familiar to each new generation of readers. Rebecca, a spirited and lively ten-year-old, was not the child her two spinster aunts had invited to live with them. They had offered to educate Rebecca's more placid older sis­ter, but with seven children to raise, Rebecca's widowed mother could hot spare the dependable Hannah.
In spite of the no-nonsense discipline in her aunt's home, Rebecca has many adventures, among them her meeting with the kindly man she nicknames "Mr. Aladdin" when she sells him three hundred cakes of soap in order to secure a beautiful oil lamp for a poor family. After leav­ing school, Rebecca is able to rescue her family from the poverty of Sunnybrook Farm when her Aunt Mirandy dies and wills her neat brick house to Rebecca.
Like Rebecca, Kate Douglas Wiggin spent the forma­tive years of her childhood in a small Maine village, moving there from Philadelphia when her widowed mother married a country doctor. Hollis, Maine, was an enchanting plhoe to Wiggin, her sister Nora, and their half brother, Philip. She fondly remembered the culmi­nation of their frog-singing school, when all twenty- one frogs sat in a row, neatly graded by size.
Kate Douglas Wiggin joked that this clearly foretold her interest in being an educator, Reading was an early passion for Wiggin, and Charles Dickens was a family favorite—nearly all the pets and farm animals were named after Charles Dickens's characters. As a child, she chanced to meet her revered author on a train, and, like Rebecca, whose candor and articulate enthusiasm charmed adults, the young Kate entertained Dickens with her reviews of the "long dull parts" in his novels.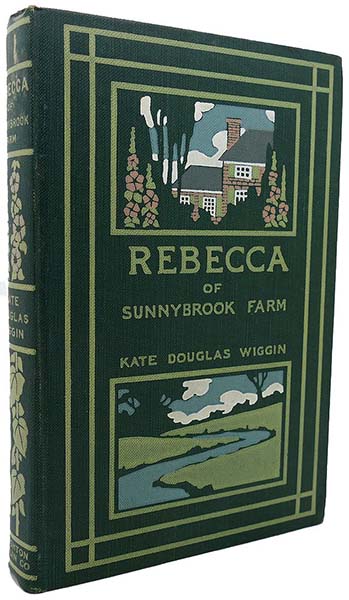 With the decline of the stepfather's health, the family moved to Santa Barbara, and after his death, as they experienced financial worries for the first time, Wiggin submitted a story to St. Nicholas magazine. When a let­ter of acceptance and a check for $150 arrived, Wiggin considered writing more stories, but she felt she had lit­tle to say and was more suited to teaching young chil­dren.
At this critical moment, she met Mrs. Caroline M. Severance, a passionate believer in the new kindergarten movement. Wiggin rapidly became one of her disciples; in 1878 she and Felix Adler opened the Silver Street Free Kindergarten in San Francisco. By 1880 Wiggin and Nora had opened their own Kindergarten Training School. Wiggin devoted herself to her profession and spent many years speaking and writing about the educa­tion of young children.
With a thought to raising money for the movement, she wrote a story called The Birds' Christmas Carol (1887) and had it privately printed. Later, after the death of her young husband, Wiggin felt the need of new directions and sent the book off to a publisher, who accepted! it. This short and sentimental story was re­ceived enthusiastically by the public, inspiring Wiggin to write Polly Oliver's Problem (1893) and other stories.
But It was Rebecca of Sunnybrook Farm that most cap­tivated the public—so much so that Wiggin was per­suaded to adapt it as a play. In 1917 Mary Pickford starred in a movie version of Rebecca, and in 1938, sev­eral years after Wiggin's death, Shirley Temple starred in another film version. Less substantial than Louisa May Alcott's landmark novel, Little Women, which also centered On spirited sisters struggling to preserve their family in the face of poverty, Rebecca of Sunnybrook Farm might have slipped from memory had it not been for the two famous movie treatments.
P.H.
Source: Children's Books and their Creators, Anita Silvey.
---
Kate Douglas Wiggin Selected Works
The Story of Patsy (1883)
The Birds' Christmas Carol (1887)
Timothy's Quest (1890), illustrated by Oliver Herford
Polly Oliver's Problem (1893)
A Cathedral Courtship, and Penelope's English Experiences (1893)
The Village Watch-Tower (1895)
Penelope's Progress (1898)
Penelope's Travels in Scotland (1898)
Penelope's Irish Experiences (1901)
The Diary of a Goose Girl (1902), illus. Claude A. Shepperson
Rebecca of Sunnybrook Farm (1903)
Half-a-Dozen Housekeepers (1903)
Rose o' the River (1905)
New Chronicles of Rebecca (1907)
Homespun Tales (1907)
The Old Peabody Pew (1907)
Susanna and Sue (1909)
Mother Carey's Chickens (1911)
Robinetta (1911)
A Child's Journey with Dickens (1912)
The Story of Waitstill Baxter (1913)
The Romance of a Christmas Card (1916)
A Summer in a Canyon: A California Story (1893)
Marm Lisa
My Garden of Memory (autobiography, published posthumously in 1923)
With Nora A. Smith
The Story Hour: a book for the home and kindergarten (1890)
Golden Numbers: a book of verse for youth, eds. (1902
The Posy Ring: a book of verse for children, eds. (1903) – "companion volume"
The Fairy Ring, eds. (1906); truncated as Fairy Stories Every Child Should Know (1942), illus. Elizabeth MacKinstry
Magic Casements: A Second Fairy Book, eds. (1907)
Pinafore Palace: a book of rhymes for the nursery, eds. (1907)
Tales of Laughter: A Third Fairy Book, eds. (1908)
The Arabian Nights: their best-known tales, eds. (1909), illus. Maxfield Parrish
Tales of Wonder: A Fourth Fairy Book, eds. (1909)
The Talking Beasts: a book of fable wisdom, eds. (1911)
An Hour with the Fairies (1911)
Twilight Stories: more tales for the story hour, eds. (1925)
The Story Hour. A Book for the Home and Kingergarten
Children's Rights
The Republic of Childhood (3 volumes)
Marm Lisa