The Lost King of Oz (1925) is the nineteenth in the series of Oz books created by L. Frank Baum and his successors, and the fifth written by Ruth Plumly Thompson. It was Illustrated by John R. Neill.
As she sometimes does in her books, Thompson exploits a detail in Baum's work to generate her story. Baum mentions Pastoria, Ozma's father and former ruler of Oz, only briefly in the twentieth chapter of The Marvelous Land of Oz (1904); Thompson spins Baum's hint into a full tale of Pastoria's exile and rescue.
The book went into the public domain on January 1, 2021.
Summary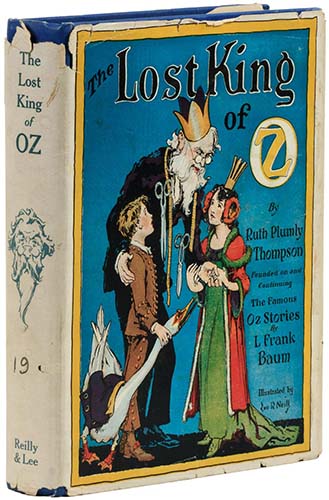 Old Mombi, formerly the Wicked Witch of the North, is now a cook in the land of Kimbaloo. One day she comes across Pajuka, the former prime minister of Oz, transformed by Mombi into a goose years before. She sets out to find Pastoria, the king of Oz, whom she also enchanted in the past. However, she has forgotten what shape she transformed Pastoria into. She kidnaps a local boy called Snip as her unwilling assistant and bearer of burdens. Eventually deciding, however, that he knows too much, Mombi throws Snip down a well; he ends up in Blankenburg, populated by the invisible Blanks. Snip meets and soon rescues Tora, an amnesiac old tailor. Tora has been held prisoner for many years by the Blanks, to do their tailoring; he has compensated by sending his detachable ears flying about the countryside to hear the news.
Meanwhile, Dorothy is accidentally transported to Hollywood, where she meets Humpy, a live stunt dummy, whom she brings back to Oz. They escape the Back Talkers in Eht Kcab Sdoow (by running backwards), and meet the Scooters who help scoot them on their way. Kabumpo the Elegant Elephant shows up to provide transport (of the mundane sort). Dorothy's party encounters Snip and Tora, and Mombi and Pajuka too. They come to the conclusion that Humpy the dummy is the enchanted Pastoria.
Eventually, matters are clarified and settled: Pajuka is restored to humanity, but Humpy proves not to be the missing king after all. Old Tora is disenchanted and turns out to be Pastoria. He spurns any notion of returning to his throne, however; he is content to settle down as a humble tailor in the Emerald City, with Snip as his apprentice and Humpy as his tailor's dummy.
In a rare act of Ozite capital punishment, Mombi is ruthlessly doused with water and melts away like the Wicked Witch of the West, so that nothing is left of her but her buckled shoes.
The Lost King of Oz First Edition Book Identification Points
Please refer to the gallery for detailed images of binding(s) and dust jackets.
Ruth Plumly Thompson - The Lost King of Oz 1925 First Edition Identification Guide
Year
Title
Publisher
First edition/printing identification points
1925
The Lost King of Oz
Reilly & Lee Co., [1925]
First edition. Illustrated by John R. Neill, 280 pages.


Textual points: The book is printed on heavy paper stock and measures about 1 3/8 inches thick. Pictorial self-endpapers in black and white.*
* What may be the earliest copies of the first printing have the letter "k" page 193, line 4, perfect Other copies apparently from the same press run have the top serif of that letter missing.


Color plates: 12 full-color inserts, tipped in facing the title page and pages 14, 46, 62, 78, 94, 110, 158, 174, 222, 238, 270. The plates are printed on stock coated only on the printed side.

Binding: medium-blue cloth, with pictorial paper label in colors. Spine imprint reads in boldface type: "Reilly   |   & Lee".

Size of leaf: 9 by 6 5/8 inches.

An issue with the imprint of the Copp, Clark Co., Limited, of Toronto on the title page and spine is known. It is otherwise identical with the American first state; copies of the Canadian issue have been seen both with perfect type and with damaged type as described in the footnote below.


Later Printings

Later printings vary primarily in the coating and method of inserting the color plates. The earliest reprints are in deep royal-blue cloth with all the plates tipped in and coated on both sides. Subsequent printings have all the plates bound in and coated on both sides, although two transitional copies have been seen: one in deep royal-blue cloth with 6 tipped-in and 6 bound-in plates, and one in bright-blue cloth with 10 tipped-in and 2 bound-in plates. The last color-plate printing (ca. 1934) in bright-blue cloth has the publisher's name on
The Lost King of Oz First Edition Dust Jacket Identification Points
First edition binding(s) and various dust jacket printings identification.
References:
Bibliographia Oziana – Haff, Greeme, Martin. 2002