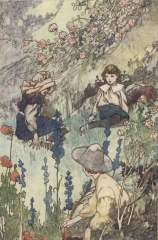 Charles Robinson (1870–1937) was a prolific British book illustrator.
Born in Islington in October 1870, London, he was the son of an illustrator and his brothers Thomas Heath Robinson and William Heath Robinson also became illustrators.
The first full book he illustrated was Robert Louis Stevenson's A Child's Garden of Verses (1895) which includes over 100 pen and ink drawings. It was extremely popular, going through many reprints, and generated numerous commissions. He illustrated many fairy tales and children's books throughout his career, including Eugene Field's Lullaby Land (1897), W. E. Cule's Child Voices (1899), Friedrich de la Motte Fouqué's Sintram and His Companions (1900), Alice's Adventures in Wonderland (1907), Grimm's Fairy Tales (1910), Frances Hodgson Burnett's The Secret Garden (1911), and books written by Walter Copeland Jerrold and himself.
Presenting to you the illustrations from the First edition of The Secret Garden. Published by William Heinemann, London, 1911.