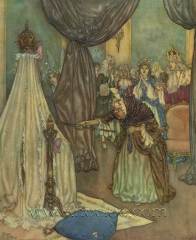 Edmund Dulac (born Edmond Dulac; 1882 – 1953) was a French-born, British naturalised magazine illustrator, book illustrator and stamp designer.
Edmund was a prolific illustrator and designer. His works include Stories from The Arabian Nights (1907) with 50 colour images; an edition of William Shakespeare's The Tempest (1908) with 40 colour illustrations; The Rubaiyat of Omar Khayyam (1909) with 20 colour images; The Sleeping Beauty and Other Fairy Tales (1910); Stories from Hans Christian Andersen (1911); The Bells and Other Poems by Edgar Allan Poe (1912) with 28 colour images and many monotone illustrations; and Princess Badoura (1913).
The holiday season is only a few days away and I'd like to take this special time to thanks all the people who took the time to send their kind words of encouragements. What's more fitting for Christmas present than Edmund Dulac's Sleeping Beauty book. Enjoy these beautiful prints.
One of his most loved and enduring work that is still in print today, close to 100 years after it was published.
Enjoy these beautiful prints and all my best wishes to you and your family on this holiday season and have a Happy New Year !
-Minh Lai