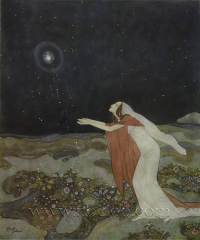 Edmund Dulac (born Edmond Dulac; October 22, 1882 – May 25, 1953) was a French-born, British naturalised magazine illustrator, book illustrator and stamp designer.
Edmund was a prolific illustrator and designer. His works include Stories from The Arabian Nights (1907) with 50 colour images; an edition of William Shakespeare's The Tempest (1908) with 40 colour illustrations; The Rubaiyat of Omar Khayyam (1909) with 20 colour images; The Sleeping Beauty and Other Fairy Tales (1910); Stories from Hans Christian Andersen (1911); The Bells and Other Poems by Edgar Allan Poe (1912) with 28 colour images and many monotone illustrations; and Princess Badoura (1913).
Presented here is the latest addition to our gallery. The Stealers of Light, illustrated by the famed Edmund Dulac. First published by Hodder Stoughton, London 1916. It's one of the rare time that a Dulac's work is not profusely illustrated, especially during the height of his career. The illustrations are still amazing  and and a pleasure to the eyes.