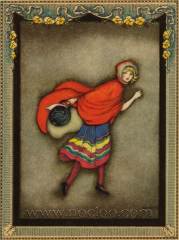 Yet another new illustrator is being added to our gallery. The Fairytale Gems book, illustrated by Jennie Harbour with 9 illustrations. Published by Raphael Tuck, nd ca 1920.
Jennie Harbour was one of the great children's fairy tale book and postcard illustrators of the Art Deco era. Very little is known about the artist though her work is in considerable demand today, both in books and posters form.
This is a tiny little book, folds out in accordion style with 9 illustrations in 5 panels. Cheer !